30 April 2021 | Chiara Bailey
Our must-visit Margaret River foodie hotspots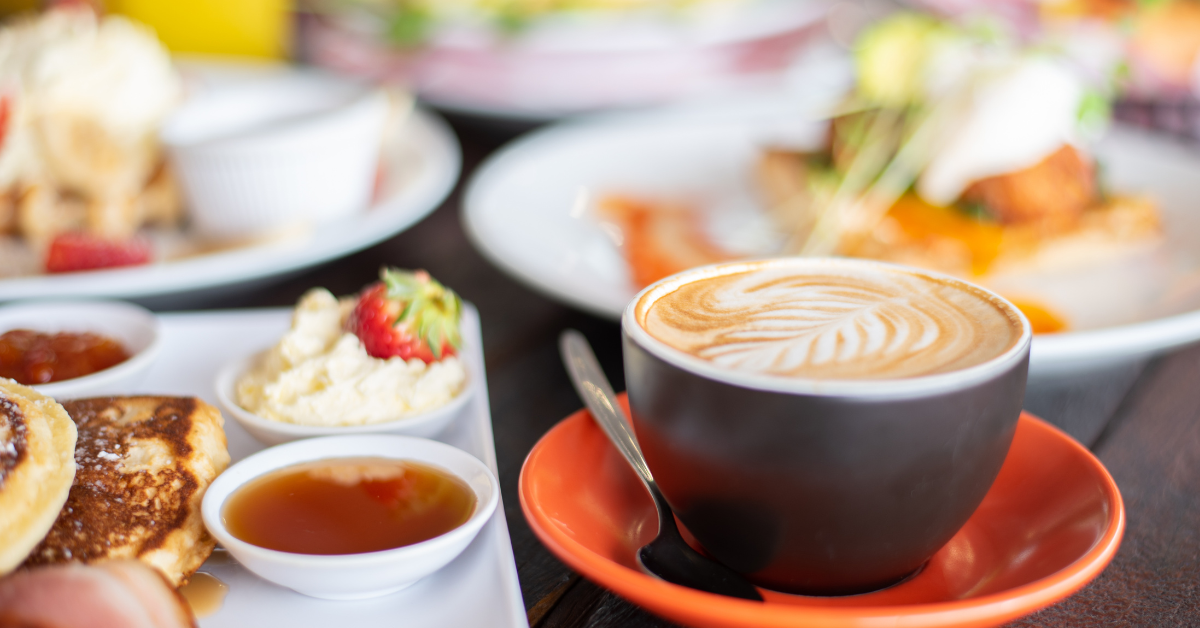 Here's a list of our favourite places to dine in Margaret River, from cafes and farmer's markets to pubs, family-friendly eateries and intimate restaurants. They are all a short drive from our Brown Hill Estate Cellar Door in Rosa Brook, so they make ideal lunch spots or dinner options if you are staying in Margaret River township.
THE RIVER
Previously known as the Margaret River Resort, The River Resort has become one of the new foodie social hubs in the Margaret River region. With a menu based on perfectly executed pub grub, a lot of it with a fun Asian bent, it's easy to see why it has become a great place to stop and refresh during the day with a Thai Crispy Fish Salad, or to enjoy a great night by the fire with a drink and share plate of Szechuan Chicken Wings. There's a kids' menu, as well as vegan, vegetarian and gluten-free options. On the way out, stop by the adjoining River bottle shop and pick up a bottle of Brown Hill wine to enjoy back at home.
40 Wallcliffe Rd, Margaret River (08) 9757 0000
BURGER BABY
Despite the name, Burger Baby is much more than just a burger joint. It's a hidden gem popular with families and hipsters, and you'll find it across the road from Settlers' Tavern. The menu features everything from epic burgers (try the JFC karaage burger with slaw, kewpie and pickled zucchini) to creative salads and grilled and rotisserie meat. If you feel like catching the sunset with your Fried Pickles, Fish Burger, Thai Noodle Salad or Half Roast Chook with Chimichurri, grab your food to-go and enjoy it on the beach with a glass of your favourite Brown Hill wine, of course.
2 Andrews Way, Margaret River
LA SCARPETTA
La Scarpetta is the best Italian restaurant in Margaret River, so if you're hankering after a hearty pasta look no further. Brown Hill Estate wines feature on the wine list here, so it is a great opportunity to try our wines alongside classic Italian fare, such as pappardelle con agnello, homemade pasta with slow-cooked lamb and white wine sauce.
73 Bussell Hwy, Margaret River. (08) 9757 9234

THE TUCK SHOP
Striving to be at the forefront of the native and sustainable foods movement, this charming local restaurant serves delicious cuisine at affordable prices. Their focus is on seafood sourced from Augusta and other sustainable WA fisheries. The Tuck Shop is a must visit for lovers of marron (crayfish), which is one of our regional favourites.
147 Bussell Hwy, Margaret River WA 6285. (08) 9757 3184
SETTLERS TAVERN
With a killer wine list, on which Brown Hill Estate is included, it is easy to forget that the Settlers Tavern is actually a pub. It earnt a three-glass rating in Gourmet Traveller WINE's 2018 Wine List of Year and took home the Best Listing of a Region's Wines. The food is exceptional and there is often live entertainment. A great night out is guaranteed.
114 Bussell Hwy, Margaret River (08) 9757 2398
PIZZICA WOODFIRED ITALIAN PIZZERIA
This welcoming pizzeria is a great choice for families and groups, and anyone else looking for top-notch pizza and warm Italian hospitality. Pizzica makes traditional woodfired pizzas with tasty, chewy bases and fresh, locally sourced toppings. It's a hot ticket in town and bookings are essential.
73 Bussell Hwy, Margaret River (08) 9758 7361

MIKI'S OPEN KITCHEN
Miki's is a modern Japanese restaurant is quite intimate, so we suggest you make a booking to secure your place at the communal u-shaped table built around the open kitchen. You will get up close and personal with the chefs as you watch them create your dishes. There are four degustation or omakase 'chef's choice' menus, starting at $45, including one for kids and one for the adults with sake pairing.
131 Bussell Hwy, Margaret River. (08) 9758 7673
THE BERRY FARM
Not far from Brown Hill Estate is The Berry Farm, where jams, sauces, syrups, ciders, vinegars and even wines are made onsite using local fruit. The Cottage Cafe on the farm is a great spot for classic comfort food. Must-try are their homemade scones and the beef and red wine pie – it's famous in Margaret River, and for good reason.
43 Bessell Rd, Rosa Glen (08) 9757 5054
MARGARET RIVER FARMERS' MARKET
The Margaret River Farmers' Market is a year-round Saturday market that is a destination for locals and visitors alike. Featuring only producers from the local area, every Saturday from 8am-12pm, the market is where you get a true taste of what the region has to offer. Our favourite stallholders are Claudio Biscotti with their range of Italian biscuits, and The Farmhouse, which has amazing meat. We love their Christmas ham and preservative-free sausages.
272 Bussell Hwy, Margaret River
Where to eat near Margaret River
Our dining guide to the greater Margaret River region, including Dunsborough, Busselton, Yallingup and Augusta. If you're travelling a little further afield, here are some of our favourite dining venues to add to your must visit list.
Yarri Restaurant and Bar
Located in Dunsborough, Yarri is a smart-casual fine-diner is a collaboration between the co-founders of Snake + Herring Wines Redmond Sweeny, Sal and Tony Davis, and chef Aaron Carr. They source ethically produced ingredients and present them simply, so you can expect a unique experience that is a celebration of the specialist growers, farmers, vignerons, distillers, fishermen, butchers and cheese makers who make up the region's rich food tapestry. Stop by on Saturday mornings from 8am for coffee and house-made doughnuts and jaffles. Filled, sugared and glazed, Yarri's doughnuts have cult status in the region.
Cyrillean Way, Dunsborough (08) 9786 5030
Blue Manna Bistro
Also in Dunsborough, Blue Manna Bistro is a spectacular seafood-focused restaurant that is also home to a takeaway fish and chip shop and seafood monger. We recommend dining in to try their contemporary take on seafood – think Augusta crayfish tacos and Dan Dan noodles with Exmouth prawns – not to mention some of the best riesling and seafood pairings around.
1/16 Cyrillean Way, Dunsborough. (08) 9786 5051
Pourhouse Bar and Bistro
Located in the heart of Dunsborough, or 'Dunsy' as it's known to locals, The Pourhouse is not just for beer lovers. There are plenty of local, national and international craft beers to enjoy, but this local hotspot also shines the light on South West wines and local food producers. With an ever-rotating menu, tap list and wines on pour, it has become one of the region's best dinner spots.
26 Dunn Bay Rd, Dunsborough. 9794 6024
The Equinox
With a prime location on the Busselton foreshore, The Equinox is an family-friendly all-day spot for a meal, a drink or a snack. There's plenty of alfresco space, including a dog-friendly beer garden and a newly refurbished kids' playground to keep little ones entertained. The menu features pub classics such as fish and chips, and during the winter months, the heart-warming seafood chowder here is a must-have.
1 Foreshore Parade, Busselton. (08) 9752 4641
Amelia Park Lodge
Located a short drive from both Margaret River and Yallingup, this one-stop-shop is a personal favourite hangout for our assistant winemaker, Angus. If you're looking for a place to stay and somewhere to eat, chill out and listen to live music, then Amelia Park Lodge is the place. They offer a guesthouse, tavern and fine dining restaurant (for private functions only). The tavern has a modern European style and offers casual pub-style dining from lunch to dinner. Rooms in the guesthouse have a sleek, monochrome fit-out and are ideal for couples.
5850 Bussell Hwy, Abbey (08) 9755 4431
Studio Bistro
Voted Best Restaurant in Yallingup, Studio Bistro is a must-visit for any foodie exploring the region. With a focus on small share plates in a relaxed setting, Head Chef Chris Mitchell's menu is a great way to try the abundance of produce from the region. There's Light, Substantial and Dessert plates, all with a contemporary Australian and European flavour, plus indoor and outdoor dining options.
21/7 Marrinup Dr, Yallingup. (08) 9756 6164
Colour Patch Cafe
Looking for a cafe stop? The newly refurbished Colour Patch Cafe in Augusta has everything you'd expect of a seaside cafe – great food, great views and a relaxed vibe. Views extend over the Blackwood River and the all-day menu is built around local produce. With plenty of cafe favourites and local seafood on the menu, we recommend this as a great spot for families. Feeling thirsty? There's a tiny bar housed in a converted 10 metre yacht built in Albany in the 60s, where you can sip a local glass of wine.
98 Albany Terrace, Augusta. (08) 9758 1869
We hope you enjoying dining out in Margaret River. Not sure where to stay while you're in the region? Check out our guide to the best accommodation options in the area.
Comments
Commenting has been turned off.