21 July 2023 | Recipes - Brown Hill
Braised Beef Cheeks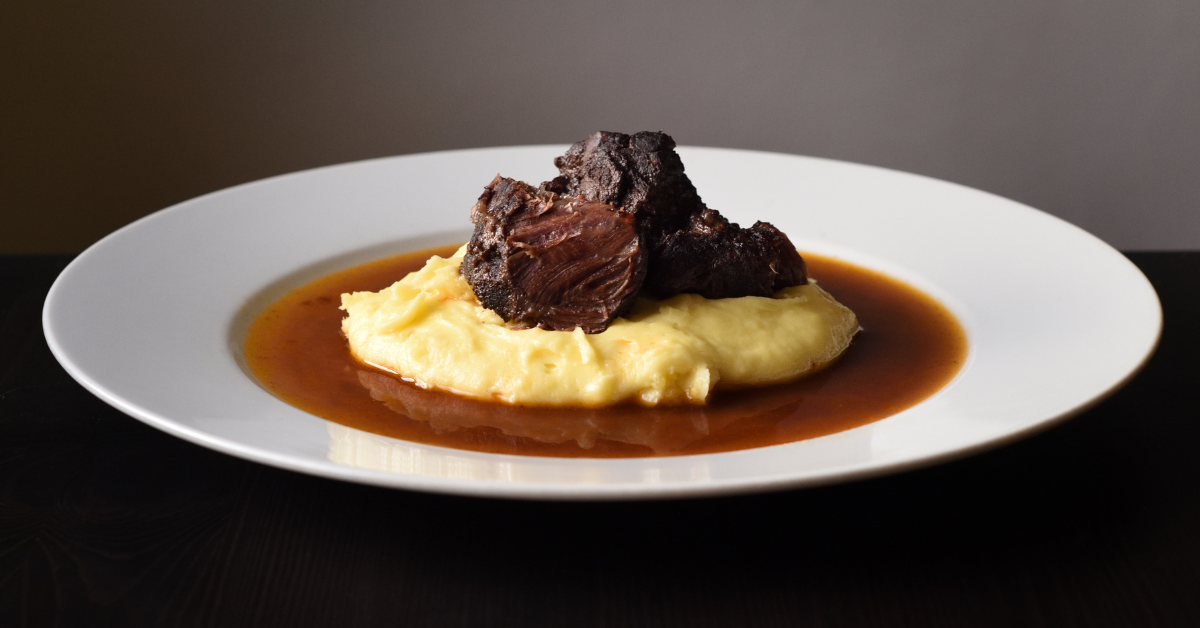 This delicious recipe has been written and tested by Sean Carter who owns and runs El Toro Restaurant in Margaret River. It does take time - in fact it is recommended 4-5 hours in the oven. As a reward you get absolutely delicious melt-in-your-mouth slow-braised beef cheeks - a perfect winter dish.
Ingredients
100ml veg oil
1 tbsp unsalted butter (optional)
1 medium carrot
1 stick celery
1 large onion
1 sprig of thyme
2 clove garlic
1 medium/ sml ancho chilli (1/2 red chilli alternate)
1/2 tsp cocoa powder
1/2 tsp ground cumin
1/4 tsp coriander ground
1/2 tsp salt flake
1/2 tsp ground white pepper
1/4 cup tomato coulis (1tsp tomato paste alternate)
1.5 ltr beef stock (more may be required dependant on pot/pan size)
4 beef cheeks cleaned and sealed
Method
Clean and season beef cheeks with cracked black pepper and salt. Seal of in a pan and set aside.
In a pot saute diced onion celery carrot and garlic until translucent. Add spices and herbs and cook out. Add tomato paste now if using and cook out. Add stock and ancho chilli stir well.
Add cheeks - nestle in the liquid and top up with more stock until liquid is 1-2cm above the beef. At this point we would put in a sous vide bag and submerge in water for a LOOONNNGGG time.
You can cook out on the stove on a low heat for 4 – 5 hours until meat is pull apart tender or in the oven (2.5hrs 180 or 160 fan forced). Meat must be allowed to cool down in liquid completely this is crucial to the meat fibre reabsorbing the flavour and liquid.
To order put cooking liquid and beef cheek in a pan and bring to a gentle heat to allow it to heat through completely. Alternately place pan in an oven on 170 and heat for 8 minutes (keep an eye on the liquid level, top up with beef stock if required).
Before serving stir a knob of butter in the sauce to give a beautiful shine.
Serve on Paris mash with seasonal vegetables.
Enjoy! Serves 4
Perfection - serve with our award winning Bill Bailey Shiraz Cabernet.
Hand harvested off a small block of field blended Shiraz and Cabernet Sauvignon on our single site vineyard. The fruit is processed and fermented together to great a long lasting harmony between these two noble varities. The Bill Bailey is a dark and brooding wine. With aromas of cassis, dark plum and mulberries this follows through onto the palate where it is surrounded by graphite tannins and a lengthy finish.
Comments
Commenting has been turned off.