10 June 2022 | Chiara Bailey
Margaret River Surf and Source Trail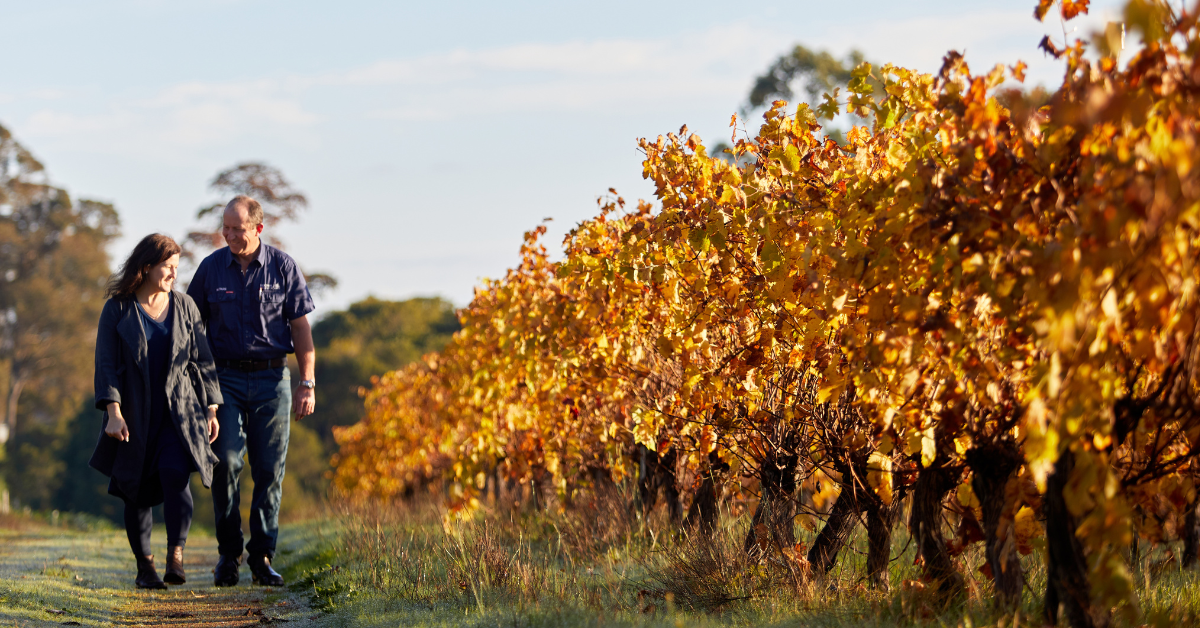 The Margaret River Region is a very special place located south of Perth in Western Australia. The fresh waters of the Margaret River flow through the land and out to sea, it is a place of natural beauty, known for its surf beaches, sea cliffs, limestone caves as well as its natural produce and boutique wineries.
The Margaret River Surf and Source Trail is a self-drive tour that captures the spirit of the region and its connection to place and culture. Experience the natural beauty of Margaret River and get to know some of the interesting characters who call this magical region home. There are 19 stops included in this unique trail and we look forward to welcoming you to our Brown Hill Cellar Door which is stop 10 in the list below.
STOP 1 - THE MARGARET RIVER / WOODITJUP BILYAE
The Margaret River is a 60km long waterway that passes through Margaret River township and features walking trails, waterfalls and picnic spots.
STOP 2 - GNARABUP BEACH
Gnarabup Beach is an oasis of calm waters, boating, fishing and snorkelling for the whole family – pop in for a coffee at the popular White Elephant Café.
STOP 3 - SURFERS POINT
Surfers Point is the ultimate surf location in the Margaret River region– the World Surf League's Margaret River Pro is held here each year.
STOP 4 - SWINGS AND ROUNDABOUTS
Swings and Roundabouts is the first winery on this trail – stop in and enjoy its wine barrel inspired interiors with woodfired pizzas and share plates with Swings and Roundabouts on taste.
STOP 5 - ELLENSBROOK AT MOKIDUP
Run by the National Trust of WA, Ellensbrook was built in 1857 and is a peaceful house of historical and cultural significance – a coastal landscape surrounded by lush forest.
STOP 6 - MARGARET RIVER FUDGE FACTORY
Make sure you stop at Margaret River Fudge Factory to try some amazing sweet treats on the main street of the Margaret River township – for the sweet tooths!
STOP 7 - YAHAVA KOFFEEWORKS
We call this the wonderland of coffee – Yahava Koffeeworks located just outside town. Here you can enjoy a coffee tasting and learn the origin of coffee.
STOP 8 - MARGARET RIVER FARMERS MARKET
Open every Saturday and a weekly must visit – the award winning Margaret River Farmers Market features authentic local produce bringing the freshest seasonal food directly from farmer to you.
STOP 9 - STAND UP SURFING
One of Margaret River's best loved beaches has stand up surfing on offer – 60 or 90 minute sessions for everyone from 8 years of age – give it a go!
STOP 10 - BROWN HILL ESTATE
Be sure to stop by Brown Hill Estate – we look forward to welcoming you! We are a family owned and run winery located 12 minutes from Margaret River near the rustic village of Rosa Brook. We established our 24-hectare vineyard in 1995 and all of our family work in the business. Many of our wines are named for famous gold mines in the Kalgoorlie area and all of our fruit is handpicked and hand sorted in our single estate. Our cellar door is set up in our winery and you can see the winemaking process first hand. Pop in for a wine tasting or better yet, book a winery tour or barrel hall tasting for a more intimate experience.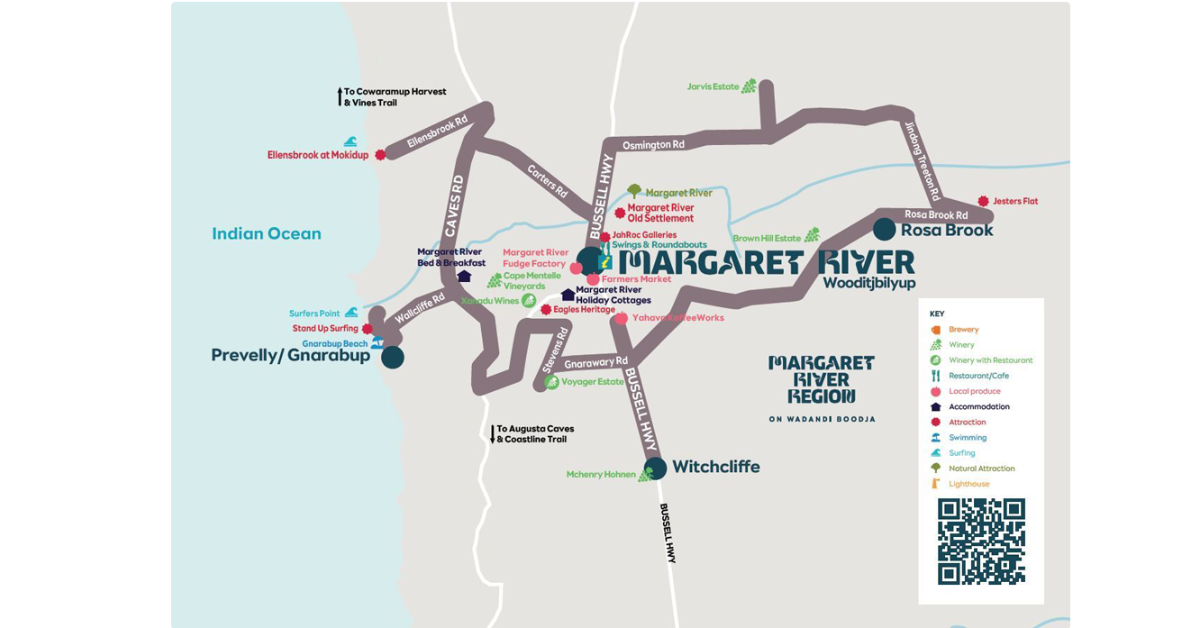 STOP 11 - JARVIS ESTATE
A boutique family winery only 10 minutes from Margaret River town, Jarvis Estate has a range of wines on offer with grapes grown, fermented and bottled on their own property.
STOP 13 - VOYAGER ESTATE
Voyager Estate is a second-generation family owned estate, set amidst lush gardens in a white washed Cape Dutch Manor House. Stop by and taste their range of certified organic wines.
STOP 13 - XANADU WINES
Founded in 1977, Xanadu offer a range of tasting settings and the cellar door and restaurant take in views of the Lagan Vineyard and a grassed courtyard.
STOP 14 - CAPE MENTELLE VINEYARDS
One of the founding wineries of Margaret River, the Cape Mentelle cellar door has a range of tour and tasting options, including picnics and wine flights in the gardens.
STOP 15 - McHENRY HOHNEN
McHenry Hohnen is a unique pop-up cellar door in the charming town of Witchcliffe, just south of Margaret River - casual and intimate, located off the main street of Bussell Highway.
STOP 16 - EAGLES HERITAGE WILDLIFE CENTRE
Eagles Heritage Wildlife Centre is a bushland sanctuary which offers the rare opportunity to get close to Australia's birds of Prey with twice daily Encounters. They also care for injured and orphaned raptors.
STOP 17 - JAHROC GALLERIES
One of the most popular art galleries featuring a range of local and Australian artists, JahRoc Galleries feature fine art, jewellery and furniture designs.
STOP 18 - OLD SETTLEMENT MUSEUM
The original 1925 Bramley School and Group Settlement buildings in Margaret River house the Historical Society Old Settlement Museum which features a collection of paraphernalia and changing displays dedicated to the 1921 – 1935 time period.
STOP 19 - JESTERS FLAT
Jesters Flat is a rural equestrian farm specialising in horse riding experiences. Treks visit beaches, breweries, wineries and secluded waterholes in Margaret River. Come and experience some of these fabulous attractions and wineries on your next visit to the Margaret River Wine Region.
For more information on the Surf and Source Trail see the Margaret River Region website here.
KEEP EXPLORING THE MARGARET RIVER
COME AND VISIT OUR CELLAR DOOR
We look forward to welcoming you to our Brown Hill Winery and Cellar Door. Brown Hill Estate is just 12 kilometres southeast of Margaret River's town centre. We offer winery tours and seated cellar door tastings every day between 10am and 5pm – bookings available and walk-ins welcome.
Comments
Commenting has been turned off.