1 April 2022 | Chiara Bailey
Margaret River Small Family Winery Trail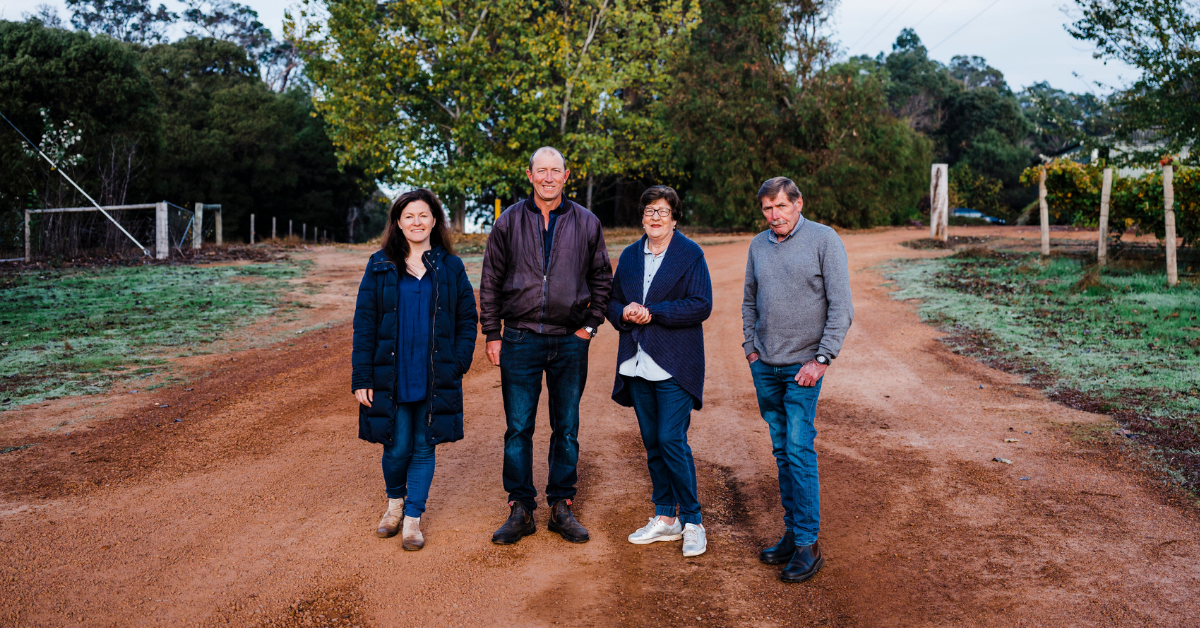 The Small Family Winery Trail in Margaret River is a self-drive tour that incorporates six individual family-owned wineries. These unique wineries are all single estate, and each have a very hands-on approach to winemaking. The cellar doors are welcoming and each offer a different yet intimate wine tasting experience.
These wineries are managed by passionate winemakers and their families – each in touch with the environment and distinctive conditions at their vineyards. Often the grapes are handpicked and hand sorted with the wines often available exclusively only at cellar door or online. Don't miss out on experiencing these boutique family-owned wineries on your next visit to the Margaret River Wine Region.
STOP 1 - ARMIA ESTATE
The trail starts out at Arimia Estate – a boutique winery, restaurant and guest house in the Wilyabrup region. They offer an exceptional dining experience, cellar door tastings and farm tours with produce available to purchase. They are entirely off the grid with sustainable produce. The farm is certified organic and incorporates biodynamic principles to grow most of the produce used in the restaurant.
STOP 2- WINDOWS ESTATE
Next stop is Windows Estate – right on the border of Yallingup and Wilyabrup. Chris and Joanne Davies own this property and produce nine varietals with a commitment to organic and holistic farming. Windows Estate vineyard is dry farmed, hand pruned, handpicked and basket pressed. They have a charming cellar door with an outdoor play area and lush lawn.
STOP 3 – CAPE GRACE WINES
Cape Grace Wines is located a stone's throw from the stars of the Wilyabrup Valley and known as the shed winery in the forest. In 1996 Robert and Karen Karri-Davies planted their 15-acre vineyard on the headwaters of the Willyabrup Valley. Their vineyard produces boutique, handcrafted, basket pressed wines. Visitors can stroll through the barrel room and the cellar door offers wine tastings and features a photographic gallery.
STOP 4 – BURNSIDE ORGANIC FARM
The next stop is at Burnside Organic Farm – located on a 15-hectare farm with vineyard, winery, avocado orchard and vegetable gardens, Owners Jamie and Lara McCall have both worked full time on the property since 1997 where they handpick and make the wine onsite – certified biodynamic. Varieties include Zinfandel and Vermentino – both dry grown. Burnside Organic Farm also offers fully self-contained bungalow accommodation.
STOP 5 – BROWN HILL ESTATE
Brown Hill Estate is the next stop and we look forward to welcoming you to our family owned and run winery and cellar door. We established our 24-hectare vineyard in 1995. It is a true family affair being a joint partnership between Jim and Gwen Bailey, their son Nathan Bailey who is the Senior winemaker and his wife Chiara. All of the family work in the business, even Nathan and Chiara's three sons who help out at the winery in their spare time. While many of the wines are named for famous gold mines in the Kalgoorlie area, the cellar door is rustic and welcoming. Just look out for the big green shed where you will be greeted by one of our family members. All of our fruit is handpicked and hand sorted in our single estate to ensure control over quality.
STOP 6 – GLENARTY ROAD
Last stop is Glenarty Road hidden away 25 minutes south of Margaret River in Karridale. Home to Sasha and Ben McDonald, fifth generation local farmer and vigneron, Glenarty Road houses a cellar door, restaurant and farm. The approach is 'ground to glass' and 'paddock to plate'. Wine making is by barrel press, the cooler climate of Karridale overlaying its own bottle character.
For more information on the Small Family Winery Trail see the Margaret River Region website here.
KEEP EXPLORING THE MARGARET RIVER
Romantic getaways in the Margaret River
COME AND VISIT OUR MARGARET RIVER CELLAR DOOR
We hope you enjoy exploring these small family wineries and look forward to welcoming you to our cellar door. Brown Hill Estate is just 12 kilometres southeast of Margaret River's town centre. We offer winery tours and seated cellar door tastings every day between 10am and 5pm – bookings available and walk-ins welcome. Looking for a special experience? Book our private Barrel Hall Tasting hosted by one of our family members.
Comments
Commenting has been turned off.