9 November 2021 | Recipes - Brown Hill
Truffle butter basted porterhouse with garlic potatoes and seasonal greens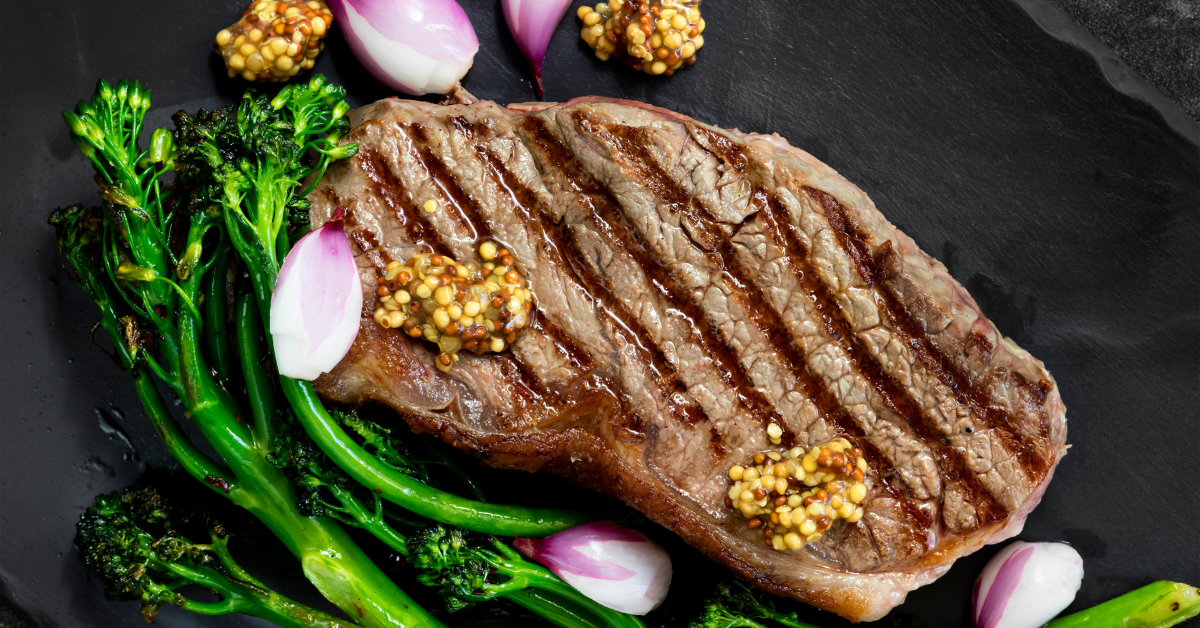 Local Chef 'Devilysh Desserts' has paired some fabulous recipes with our wines - we hope you enjoy this delicious dish accompanied with a glass of Brown Hill wine.
Nothing beats a beautifully cooked porterhouse steak served with a delicious glass of red wine and this truffle infused dish is just amazing. Elevate your next meal and serve this juicy tender steak with our new release Golden Mile Cabernet.
INGREDIENTS
2x250g porterhouse at room temperature
50g salted butter softened
10g fresh shaved truffle
2 medium-large potatoes
Smoked paprika
1T minced garlic
Vegetable oil
Olive oil
1 bunch Broccolini
1 bunch asparagus
Sea salt flakes
Cracked black pepper
2T lemon juice
METHOD
Pre heat oven to 200 degrees, wash and dry the potatoes and cut in half lengthways, then make cuts, spaced 5mm apart, across the potatoes, but not all the way through. Brush potatoes with minced garlic and olive oil, season with salt and a sprinkle of smoked paprika, place into a baking tray and in the oven. Cook for approximately 45 minutes or until golden and crisp.
To make truffle butter, combine in a bowl shaved truffle, softened butter and a pinch of sea salt, set aside.
Once potatoes are cooked place washed and dried broccolini and asparagus into the same baking tray with a drizzle of olive oil and roast for a further 10-15 minutes, while you cook your steaks.
To cook steaks, place a fry pan on high heat with 2T of vegetable oil, while pan is heating up season your steaks generously both sides with cracked black pepper and sea salt. Once pan starts to slightly smoke place steaks into fry pan, lowing the steak away from you to avoid hot oil splash. Cook for about 3 minutes a side, once second side is cooked turn fry pan to medium-low heat and place in 2T of the truffle butter, tilt frypan slightly to one side and allow the melted butter to pool, using a spoon ladle the melted butter over the steaks so they are well covered. Once butter has turned a gentle golden brown remove steaks from pan and rest on a plate for a further 5 minutes, Set butter aside to slightly cool.
Remove broccolini, asparagus and potatoes from the oven, drizzle greens with lemon juice and season with fresh cracked black pepper, place potatoes and greens onto a plate followed by your rested steaks, serve the steaks with spoonful of the melted truffle butter over the top and a fresh shaving of truffle. Serves 2.
Enjoy!
We sourced the porterhouse from Geo Organics, truffles from Margaret River Gourmet Truffles, potatoes and seasonal greens from Margaret River Market Garden at the Farmers Market.
Comments
Commenting has been turned off.