1 August 2022 | Recipes - Brown Hill
Pink oyster mushroom moussaka, grilled eggplant, triple crème brie bechamel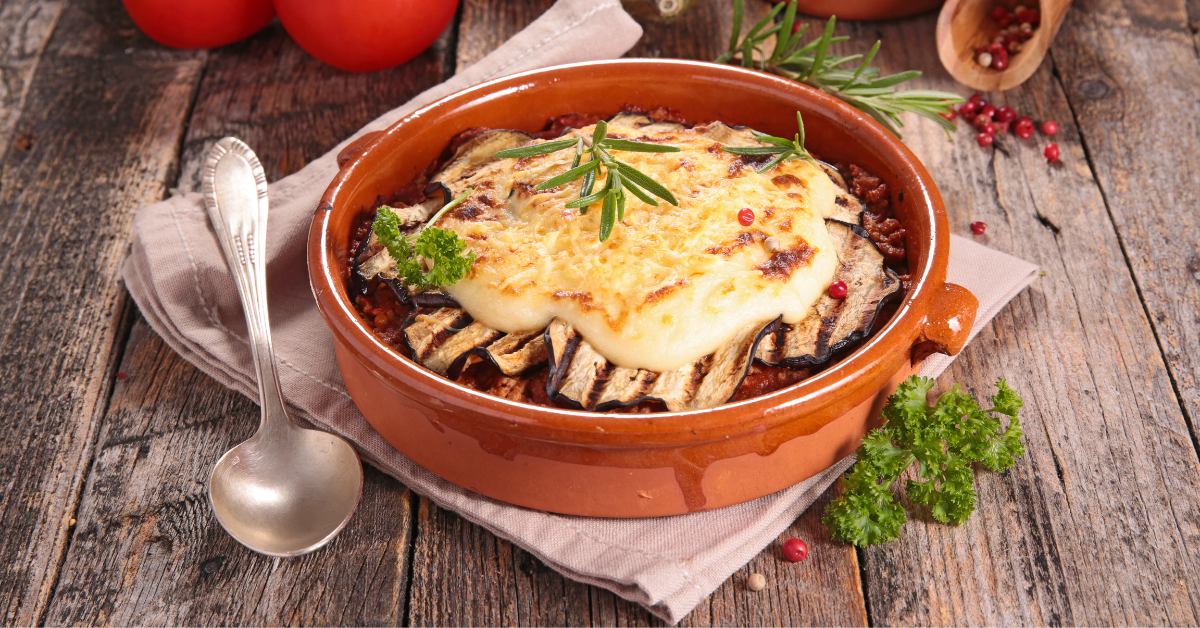 Local Chef 'Devilysh Desserts' has paired some fabulous recipes with our wines - we hope you enjoy this delicious dish accompanied with a glass of our limited release and very special Golden Mile Shiraz.
Ingredients:
1 eggplant, sliced and roasted over an open flame
1 onion diced
1T minced garlic
½ red capsicum, deseeded and diced
2 zucchini, diced
6 pink oyster mushrooms, diced
440 g can diced tomatoes
150 g tomato paste
1 tablespoon soy sauce
½ teaspoon dried oregano
½ teaspoon dried basil
Salt and freshly ground black pepper
5 potatoes, sliced and par-cooked (preferably steamed)
1/2C grated cheese
Bechamel
1/4C plain flour
2C milk
50g unsalted butter
3/4 cup grated cheddar
200g sliced triple crème brie
Method:
Preheat oven to 200C. Heat oil in a frying pan over medium high heat and cook onion and garlic for 2-3 minutes or until softened. Stir in mushrooms, capsicum and zucchini and cook a further 3 minutes.
Add can of tomatoes and paste and bring to the boil, add soy sauce, basil and oregano, reduce heat and simmer 5 minutes or until sauce has thickened and the vegetables are soft. Season to taste and set aside.
To make bechamel melt butter in a medium saucepan over medium heat. Add flour and cook, stirring constantly with a wooden spoon, for 2 minutes or until butter and flour form a bubbling paste.
Gradually whisk in milk, then bring to the boil. Simmer for 2 minutes, stirring with a wooden spoon, or until slightly thickened. Add cheese and stir for 1 minute or until melted, season with salt.
To assemble, layer eggplant on the base of a baking dish. Spoon over tomato mushroom mixture and a layer of potatoes followed by bechamel, continue the layers until you have used up all the mix. Top with the last of the bechamel and sprinkle 1/2C grated cheese. Bake for 25-35 minutes until cheese has melted and become golden. Serves x 4
Enjoy!
Mushrooms sourced from The Sophisticated Beast, eggplants sourced from Margaret River Market Garden, triple crème brie sourced from Margaret River Dairy Company.
Comments
Commenting has been turned off.