6 May 2021 | Brown Hill Blog | Nathan Bailey
Most Instagrammable Places and Photographic Hotspots in Margaret River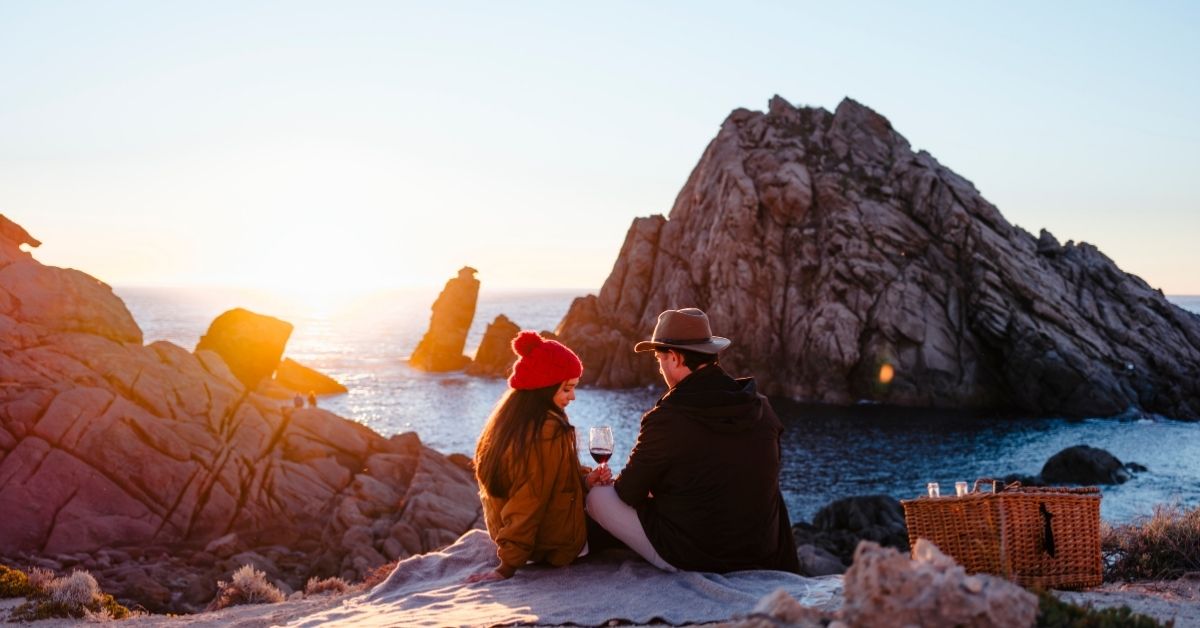 Margaret River is one of Western Australia's premier tourism destinations and with world-class wineries, surf breaks and incredible natural scenery at every turn, it's also one of the most stunning places to visit on the West Coast, if not in Australia. Not to mention one of the best places to capture on film (well, figuratively speaking). Here's our insider's guide to the most Instagrammable places and photographic hotspots in Margaret River so you can point and shoot your way around the region to make beautiful memories. Make sure to share your photos using the popular hashtags #margaretriver #margaretriverregion #margaretriverwine #margaretriverfood.
Instagrammable content surrounds at Gas Bay, especially if you have a drone and can capture the bird's-eye beauty of this crystal-coloured surf spot. Gas Bay is an exposed reef break that brings in reliable surf in the form of impressive waves and glassy barrels. It's hard to take a bad photo here from the ground or the air. It's a beautiful muse for anyone with a camera with sunset views, rocky headlands with reflective rock pools, and great surf.
A must-visit for the food blogger. Drift Cafe has nailed the three Ds of an Instagram -worthy image: delightful presentation, design aesthetics, delicious food and drink. Beyond the food, there's a photogenic mural featuring Drift's mascot Mo the Italian greyhound. If you're lucky enough, Mo might let you snap a photo with him – but be warned, he's in high demand.
The Cape to Cape Trail is the longest coastal walk in Australia, stretching out 135km from north to south. Wherever you find yourself, there are many easy access points to the coastal walk, making it truly accessible for all. To utilise the full potential of 'golden hour' (aka optimum photo lighting), we recommend starting the walk at sunrise or capturing your dreamy experience at sunset.
Greenery surrounds at every turn at Amaze'n, a 25-year-old giant hedge maze set among five hectares of stunning landscaped gardens that are reminiscent of Europe. There are more than two kilometres of hedged pathways to explore and strike a pose in, with quirky garden art and sculptures along the way.
A glass (…or bottle) of Brown Hill wine and a vineyard backdrop are the perfect ingredients for a classic Margaret River Instagram shot. Our 24-hectare vineyard is planted with rows of cabernet sauvignon, shiraz, merlot, malbec, sauvignon blanc, semillon and chardonnay, and with our iconic green shed, there are plenty of spots to take a magnificent picture under the blue sky or at sunset. Come and visit us!
If you're looking for vibrant colours, Margaret Rivers Farmers Market is the place to be! Surrounded by vivid fresh produce and local delicacies, this is the spot for the travel photographer who enjoys capturing food and people in situ. Make sure you save time to put your camera away too to enjoy local food from the vendors including coffee, dumplings, cannoli, macadamia products and filled pancakes.
Sugarloaf Rock is a gigantic granite rock just off the mainland in the Leeuwin-Naturaliste National Park near Dunsborough. As you approach Sugarloaf Rock you will instantly see why this towering, sea-sculptured rock is one of the most photographed coastal landforms in the region. The ocean side often battered by the Indian Ocean's swell, while the rock is separated from the coast by a narrow channel of wild water. The elevated viewing platform is a great spot for watching the sun go down over the Indian Ocean with a sundowner in hand. If you're lucky, you may also see migrating whales or dolphins in the water.
It's a known fact that food tastes better when it's served alongside Western Australia's stunning turquoise coastline. White Elephant Cafe delivers on breathtaking views with photo-perfect natural lighting with amazing fresh food choices. Must-eat and must-snap? Any of their burgers. Open for coffee, breakfast and lunch.
If you love the combination of history and nature, Mammoth Cave has you covered. As you enter the 10-million-year-old cave through bushland via a gently sloping boardwalk, you'll realise just how much there is to see here both inside and outside the cave. Over 10,000 fossils had at one time accumulated inside the cave and upon excavating many of these were found to be remains of Australian Megafauna (giant animals) that became extinct around 46,000 years ago. There is even a 50,000 year old 'zygomaturus' jawbone embedded in the cave wall. Mammoth Cave is the most easily accessible of all the caves in the region, with wheelchair access to the first chamber.
COME AND VISIT OUR MARGARET RIVER CELLAR DOOR
While you're in the Margaret River, we'd love to welcome you to our Cellar Door. Brown Hill Estate is just 12 kilometres south east of Margaret River's town centre. We offer winery tours and seated Cellar Door tastings every day between 10am and 5pm – bookings available and walk-ins welcome. Looking for a special experience? Book our private Barrel Hall Tasting hosted by one of our family members.
Read More!
Plan your romantic getaway to the Margaret River with our insider's guide on where to stay, where to eat and the best things to see and do for couples and honeymooners of all ages.
Comments
Commenting has been turned off.