11 November 2019 | Recipes | Recipes - Brown Hill
Gwen's Christmas Cake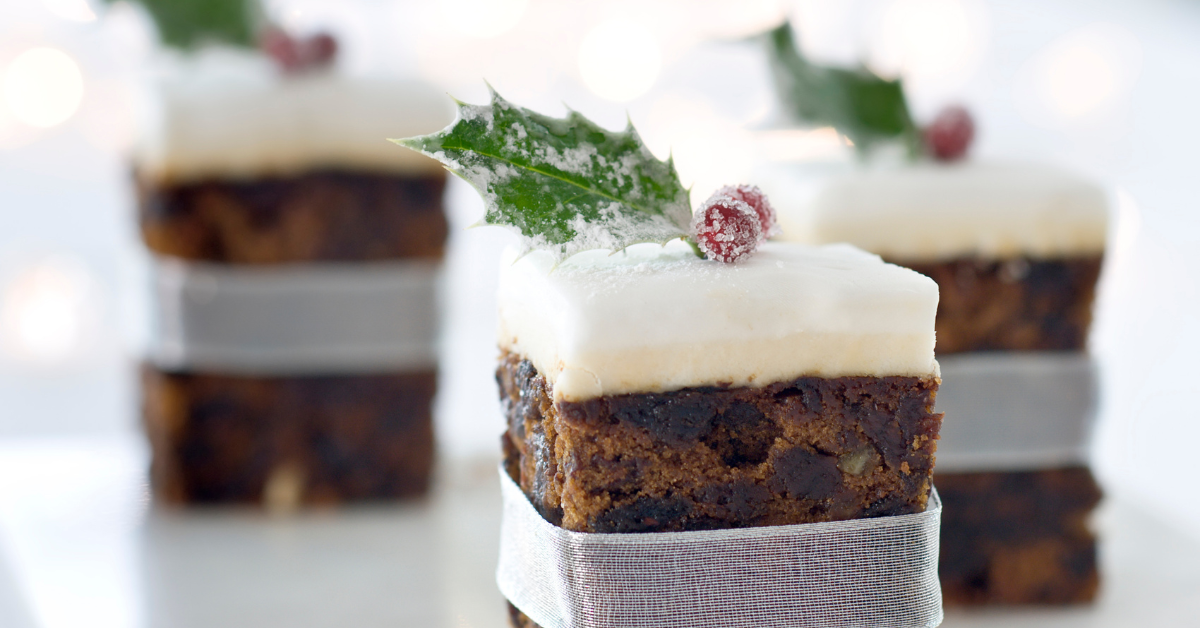 Makes two large cakes
Cook Time: 3 – 4 hours
Ingredients
500 grams butter
500 grams brown sugar
500 grams plain flour
10 eggs
2 kgs mixed fruit
1 teaspoon ground cloves
1 teaspoon ground ginger
1 teaspoon ground nutmeg
1 teaspoon baking powder
1 teaspoon cinnamon
1 teaspoon of grated lemon rind
¼ teaspoon pure lemon essence
¼ teaspoon pure almond essence
250g slivered almonds for the cake mix
250g whole almonds for on top of cake
1 bottle Brown Hill Paringa muscat (375 mls)
1 cup of brandy
Method
Place brandy and Brown Hill Paringa Muscat in a large bowl. Add mixed fruit, peel, lemon essence, almond essence and slivered almonds and stir until well combined. Cover bowl tightly with plastic wrap and leave to soak for a week.
Preheat oven to 150 degrees celsius. Grease and line 2 x 20cm round cake tins
Using an electric mixer cream butter until light and fluffy. Add brown sugar and beat until well combined. Add eggs, one at a time, beating well after each addition.
Stir in the pre-soaked mixed fruit and almonds. Sift together flour and spices then stir into butter mixture and mix with a wooden spoon until smooth. Spoon into prepared cake tins.
Make a small well in the centre of the cake mix so when cake rises the top is flat. Sprinkle top of cake with a spoonful of water then pat the top of cake mixture with the back of the spoon to make it smooth. Decorate the top of the cake with the whole blanched almonds.
Place in preheated slow oven (150c) for 3-4 hours. Test with skewer to ensure cake is cooked all the way through. Remove from oven and leave to cool in the tin. When cool, sprinkle with a little more muscat then wrap cake tightly in a double layer of greaseproof paper or baking paper followed by a double layer of foil and then store it in an airtight container or tin in a cool place away from direct sunlight. Cake will last for 6 months stored this way.
Just perfect served with any of our wines from our Festive Dozen.
Comments
Commenting has been turned off.