12 November 2021 | Recipes - Brown Hill
Garlic butter marron, lime creme fraiche, fennel salad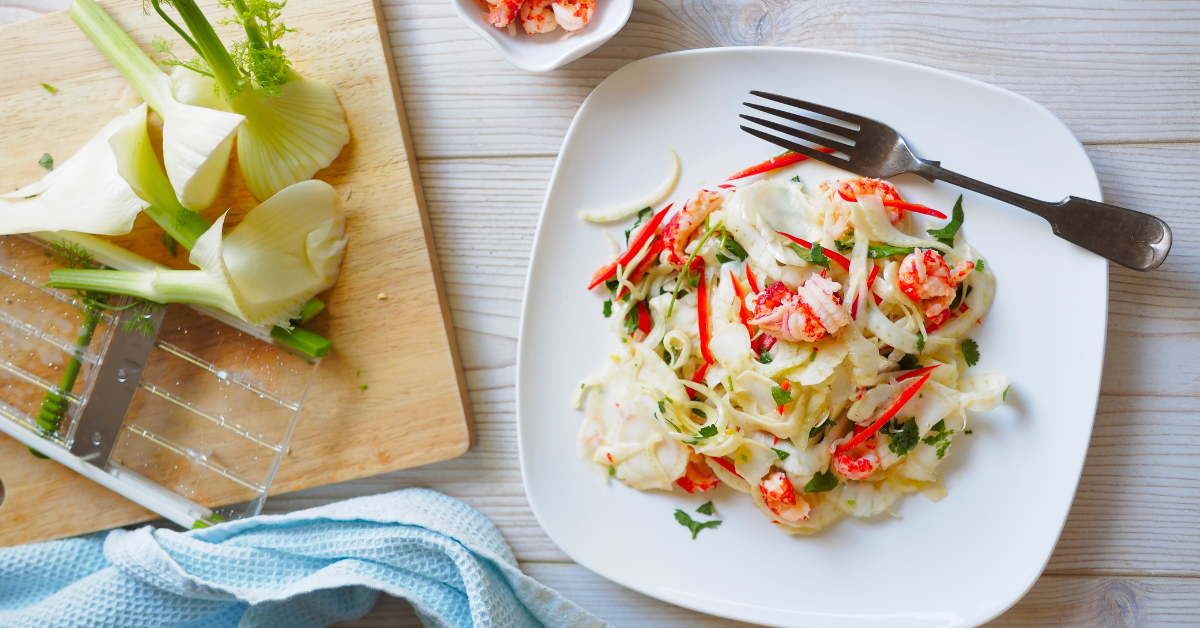 Local Chef 'Devilysh Desserts' has paired some fabulous recipes with our wines - we hope you enjoy this delicious dish accompanied with a glass of Brown Hill wine.
The warmer weather and the festive season call for fresh seafood and crisp salads. Try our easy to prepare garlic butter marron recipe with lime creme fraiche and fennel salad. Serve with a chilled glass of our crisp Charlotte Sauvignon Blanc.
INGREDIENTS
2x Marron split in half, washed and cleaned
Sea salt flakes
Black cracked pepper
Olive oil
50g salted butter softened
1T minced garlic
1T lime juice
100g crème fraiche
1 medium fennel bulb
1 green apple
½ red onion
2T lemon juice
METHOD
Pre-heat over at 170 degrees. Lay split and washed marron in a baking tray shell side down, combine salted butter, minced garlic and a pinch of sea salt in a bowl, mix and spread onto the flesh of the marron, place into oven, cook for 7-10 minutes.
While marron is cooking, slice fennel, red onion and apple as thinly as you can, (using a mandolin if you have one). Place all into a bowl with lemon juice, mix and season with sea salt and fresh cracked black pepper. Set aside. Combine crème fraiche and lime juice in a bowl.
Remove marron from oven once cooked (7-10 minutes) and allow to rest for 3 minutes.
Spoon lime crème fraiche into the middle your serving plates, place a handful of your fennel salad on top followed by your garlic butter marron. Serves 2.
Enjoy!
We sourced the local marron from Margaret River Butcher, fennel, apples and red onions from Garden Basket in Margaret River.
Comments
Commenting has been turned off.