15 April 2022 | Recipes - Brown Hill
Eye fillet carpaccio, shadows of blue cheese, cherry balsamic dressing and fresh pomegranate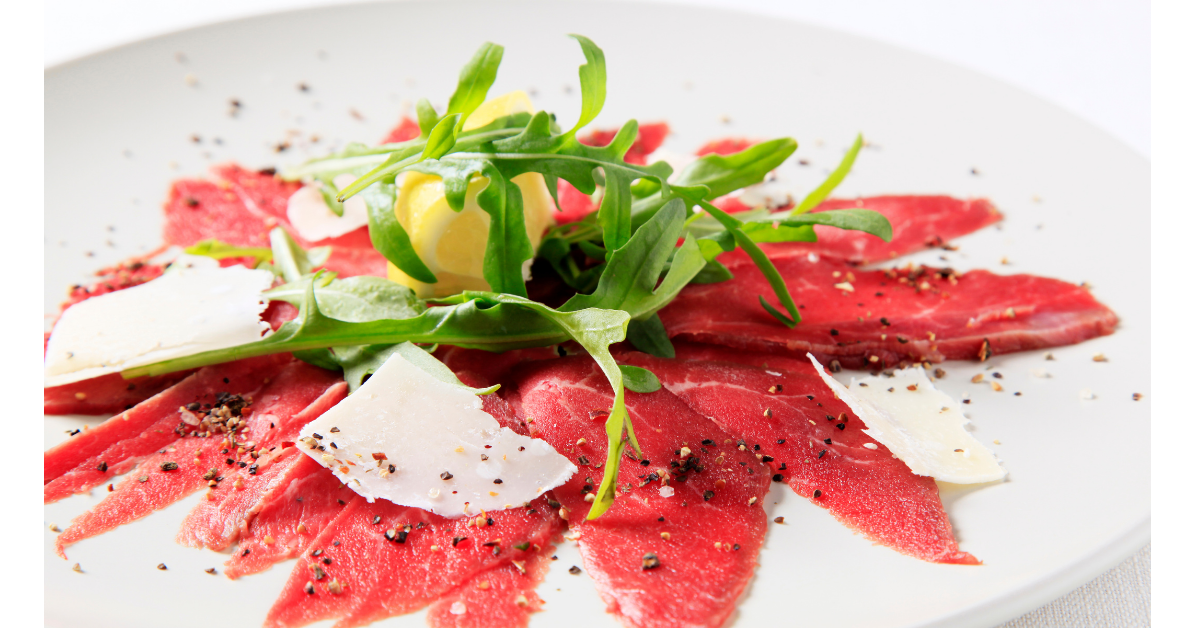 Local Chef 'Devilysh Desserts' has paired some fabulous recipes with our wines - we hope you enjoy this delicious dish accompanied with a glass of Brown Hill Ivanhoe Reserve Cabernet Sauvignon - a magnificient Margaret River Cabernet!
Ingredients:
400g eye fillet streak, trimmed
150g Shadows of Blue (at room temp)
Sea salt
Cracked pepper
1 fresh pomegranate
1 bunch of watercress
50ml cherry balsamic
METHOD:
Place the beef fillet in the freezer until it is half-frozen.
While meat is freezing, remove the pulp from the pomegranate by cutting it in half and smacking the bottom the half with a wooden spoon, gather up the pulp and set aside.
Remove meat from the freezer and cut into very thin slices using a very sharp knife. Place each slice between 2 pieces of greaseproof paper and gently beat with a rolling pin or mallet to thin out the slices even more.
Arrange the thinly sliced carpaccio on two plates and sprinkle pomegranate on top, using a teaspoon, spoon blue cheese into plates, season heavily with salt and pepper.
In a bowl place watercress leaves and drizzle with a small amount of cherry balsamic. Then divide between the two plates and place on top of the meat, drizzle remaining balsamic over the top. Serve immediately.
Enjoy served with a glass of our elegant and silky Ivanhoe Reserve Cabernet Sauvignon.
Eye fillet sourced from Leeuwin Grass Fed Beef, Shadows of Blue sourced from Blue Ginger Margaret River, cherry balsamic sourced from Whirlwind Farm Margaret River, fresh pomegranate and watercress sourced from The Garden Basket Margaret River.
Comments
Commenting has been turned off.