27 October 2021 | Recipes - Brown Hill
Crispy-skinned duck breast, pink oyster mushrooms, creamy sweet-potato mash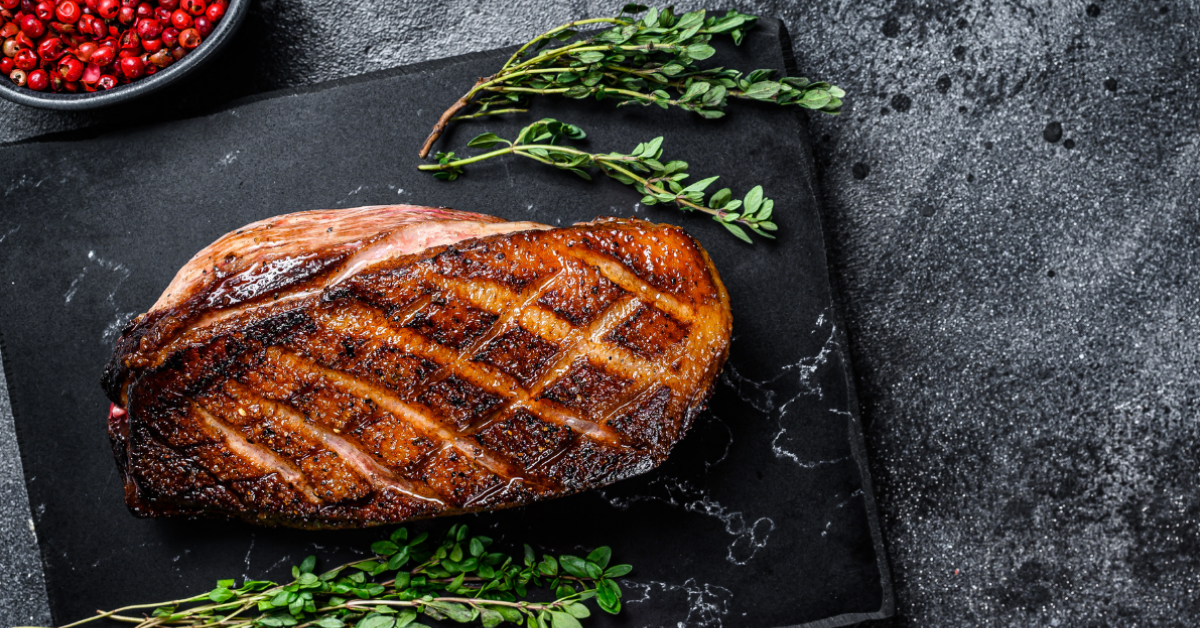 Local Chef 'Devilysh Desserts' has paired some fabulous recipes with our wines - we hope you enjoy this delicious dish accompanied with a glass of Brown Hill wine.
Nothing says 'special occasion' quite like duck, and this rich recipe with savoury sides certainly fills the bill for the festive season. Round out the meal with our award-winning Perseverance Cabernet Merlot – the perfect complement to this celebratory dish. The recipe serves 2.
Ingredients
400g sweet potatoes, peeled and diced
2 duck breasts
Sea salt flakes
1 tbsp vegetable oil
300g pink oyster mushrooms, chopped into bite-sized pieces
3 tbsp vegetable broth
2 tbsp salted butter
½ brown onion, diced
1 tsp garlic, minced
50ml cream
METHOD
Preheat oven to 200˚C. Place sweet potato into a large pot, cover with cold water, and bring to a boil over high heat.
Once potato is almost cooked score the skin on the duck breasts and season skin side heavily with sea salt.
Heat oil in a frypan over medium heat. Place duck in frypan skin side down. Cook for approximately 6 minutes, until duck fat renders down nicely and the skin is a beautiful golden brown. Turn duck and cook for another 3 minutes. Transfer duck skin side up to a baking tray and bake in oven for 5 minutes.
Meanwhile, add mushrooms to a cold frypan, then place over medium heat to sweat them. Cook for 5-10 minutes, or until the steam from the mushrooms begins to slow or they start to stick to the pan. Add the vegetable broth, 1 tbsp butter, onion and garlic. Season with salt and freshly ground black pepper. Cook for another 5-10 minutes to reach desired texture Set aside.
Remove duck from oven and let rest.
Drain potatoes and return them to the pot. Add cream and remaining butter. Season to taste with salt and freshly ground black pepper. Mash vigorously to desired consistency.
Slice each duck breast into 5 even slices and transfer to two serving plates. Serve with potatoes and mushrooms.
Enjoy!
We sourced the duck breast locally from Margaret River Gourmet mMeats, oyster mushrooms from the Sophisticated Beast in Vasse and sweet potato from The Garden Basket Margaret River.
Comments
Commenting has been turned off.