18 February 2022 | Recipes - Brown Hill
Confit duck salad with roasted turnip, shallot and horseradish mascarpone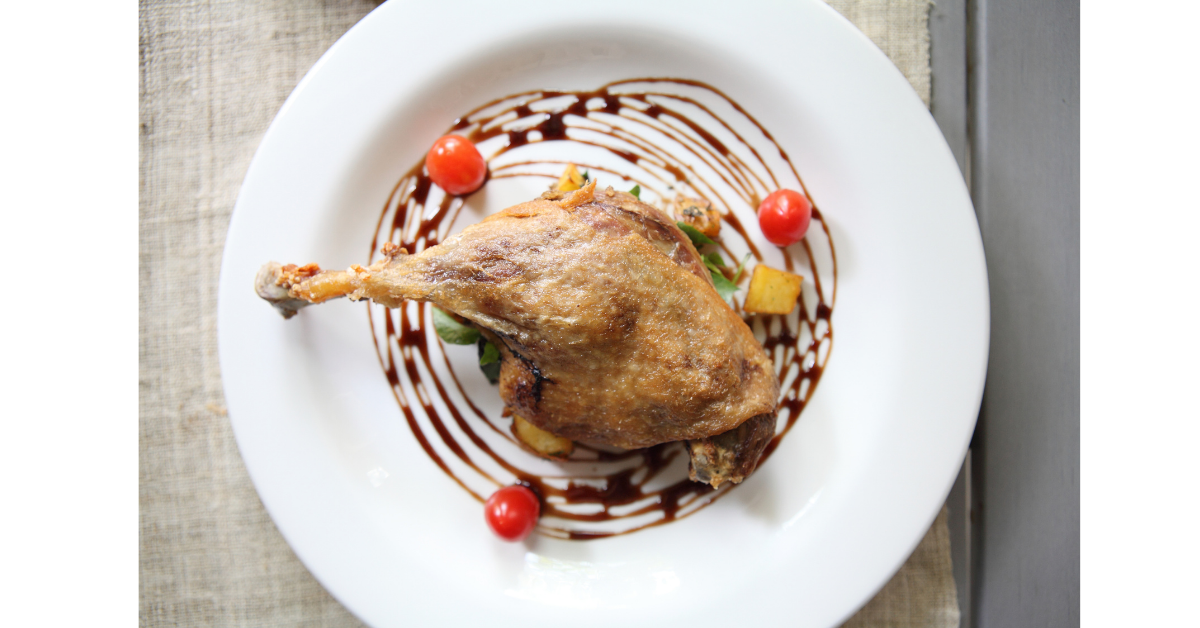 Local Chef 'Devilysh Desserts' has paired some fabulous recipes with our wines - we hope you enjoy this delicious dish accompanied with a glass of Brown Hill wine.
Along with the change in temperature comes a change in local produce and nothing beats this delicious warm duck salad with horseradish mascarpone served with a glass of our customer favourite Chaffers Shiraz.
Ingredients:
2x Duck Marylands 30g Salt
4x Garlic cloves, unpeeled, bruised
4 Thyme sprigs
5 peppercorns
6 Juniper berries
1 fresh bay leaf
6oog Duck fat, enough to cover the duck pieces when melted
1 large turnip diced
3 shallots, peeled and quartered
2 cups of roquette
1T olive oil
2t sherry vinegar
Horseradish mascarpone
100g softened mascarpone
40g fresh horseradish finely grated
Juice of ¼ lemon
Method:
Toss duck legs in salt, once well coated cover and refrigerate overnight to cure.
Preheat oven to 110C. Rinse duck under cold water removing all the salt, pat dry with paper towels and place in a deep roasting pan. Add garlic, thyme, peppercorns, juniper and bay leaf and cover with melted duck fat. Cover directly with baking paper and foil and cook for 1 ½ hours. Remove legs from fat and refrigerate until required. Remove confit garlic cloves and set aside.
Increase oven to 150C. Heat an oven proof frying pan over medium heat. Add turnip, shallots, confit garlic, stirring occasionally until golden (2-3 minutes) then transfer to oven and roast until soft (10-15 mins) set aside.
For horseradish mascarpone, combine horseradish, mascarpone and lemon juice in a small bowl and season to taste, refrigerate until required.
Fry duck legs skin side down in a frying pan lined with baking paper over a low heat until fat renders and skin is golden and crispy (5-7 minutes), then transfer to oven to warm through (5 minutes). Shred duck meat and discard of bones.
Combined roasted turnips and shallots with roquette, olive oil and sherry vinegar, season to taste and divide among plates. Scatter duck on top, top with spoonful's of horseradish mascarpone and serve warm.
Enjoy!
Duck sourced from Margaret River Venison Farm. Turnip, shallot and horseradish sourced from The Garden Basket. Margaret River.
Comments
Commenting has been turned off.