20 October 2022 | Recipes - Brown Hill
Campanelle con stufato di agnello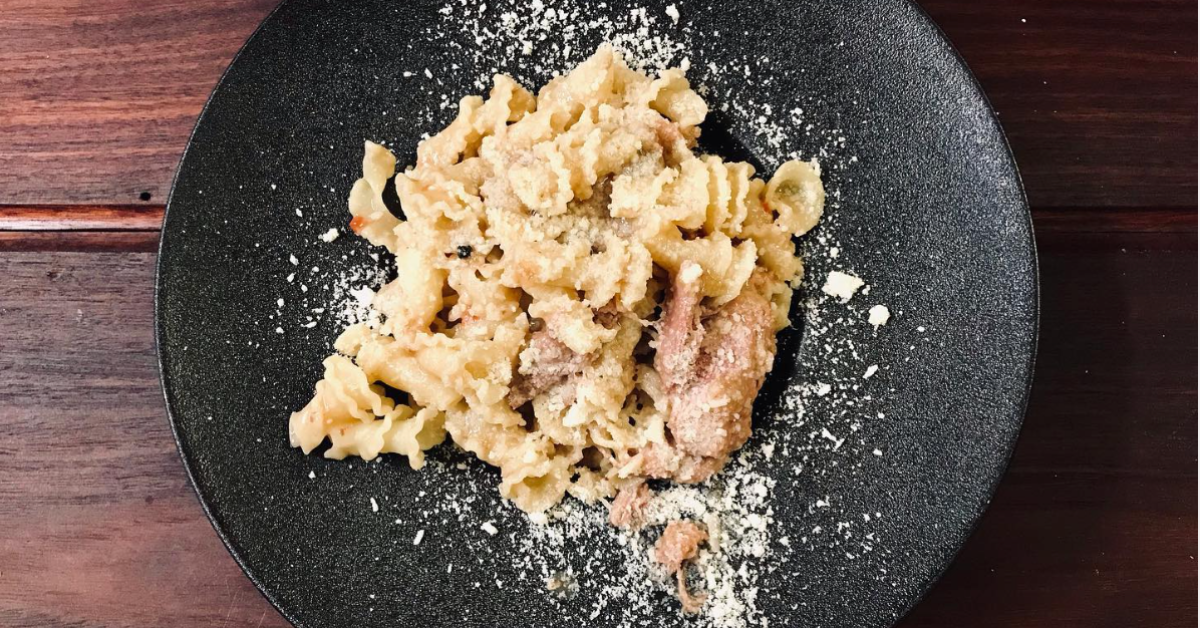 Campanelle con sufato di agnello - homemade short pasta in a slow cooked lamb shoulder sauce with white wine and cherry tomato. This delicious dish is from our friends at La Scarpetta Trattoria right here in the Margaret River Wine Region. We have been long time fans of this lovely restaurant and it is one of our favourite places to eat in Margaret River. It is actually very simple to prepare and matches perfectly with our Chaffers or Fimiston Shiraz.
INGREDIENTS:
For the sauce (which is really a stew):
2 brown onions
2 carrots
1 punnet of cherry tomato
1 whole lamb shoulder (about 1.5kg)
1 bottle of Brown Hill Lakeview Sauvignon Blanc Semillon
6-8 bay leaves
Whole black peppercorn
Half handful of salt
Flour (enough to coat the lamb shoulder)
Extra Virgin Olive oil
600g of La Scarpetta short dry pasta (we recommend Campanelle)
METHOD:
Heat up the oven to 120C degrees.
On the stove heat up a large skillet, preferably cast iron or stainless steel, to almost fuming point, add your oil and immediately put in the flour coated lamb shoulder, flipping it a few times and making sure it becomes lightly brown on all sides. Then add your finely chopped onions and carrots, whole peppercorns and bay leaves, keeping on stirring for a few minutes until they soften. Then add your white wine and let the alcohol cook off before adding the punnet of cherry tomatoes (it doesn't matter if they're whole or cut in half).
The wine should be just enough to cover the meat, if using a larger pot, top up with water).
Cover the pot with its lid and put in the oven for at least 14/16 hours. Turn off the oven and let it cool inside. Please note that this stew will taste even better the day after is fully cooked. You can shorten the cooking time by several hours by raising the temperature of the oven (6 hours at 180C) but we prefer the slow cooked method.
For the pasta, bring to the boil 5 litres of water and a handful of rock salt. Add your favourite short pasta and cook following instructions on the packet.
Drain well and add to your sauce in a pan where the meat has been roughly pulled apart with a fork. Toss it and mix it on high heat for a minute (add grated cheese if you like). Serve immediately.
This dish is perfect served with our Chaffers or Fimiston Shiraz.
Thank you to our friends at La Scarpetta Trattoria or sharing this wonderful recipe!
Comments
Commenting has been turned off.