24 March 2022 | Recipes - Brown Hill
Cabernet and Venison Stew with Handmade Paccheri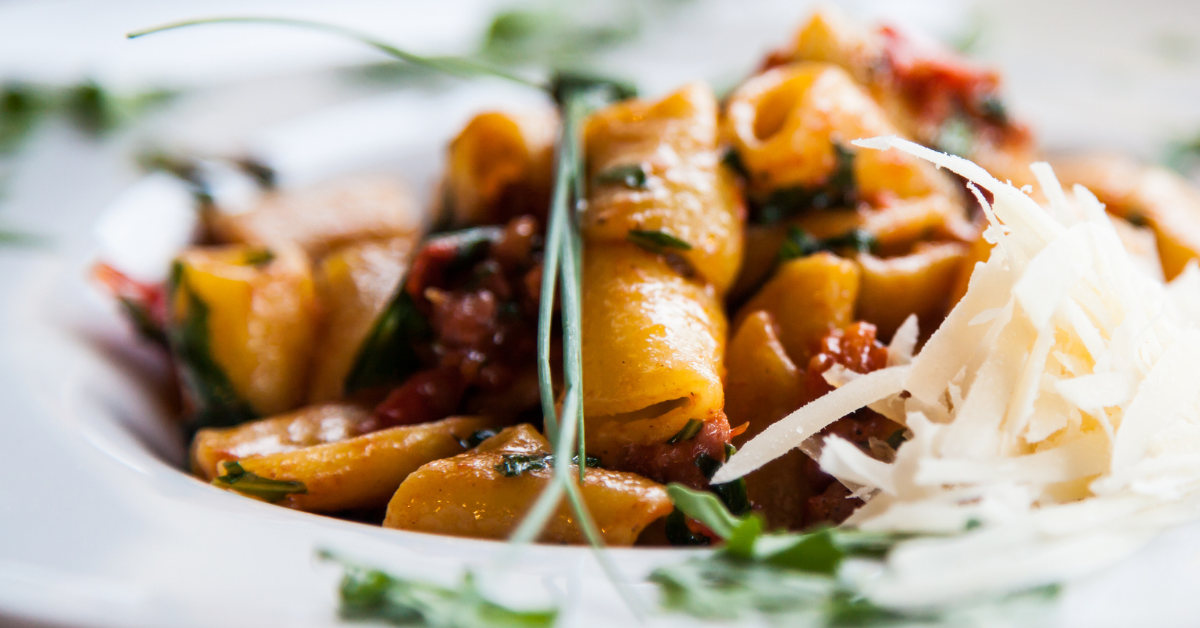 Local Chef 'Devilysh Desserts' has paired some fabulous recipes with our wines - we hope you enjoy this delicious dish accompanied with a glass of Brown Hill Hannans Cabernet Sauvignon.
This rich cabernet and venison stew with paccheri pasta recipe is perfect for special occasions and cooler nights. Flavoured with fresh herbs and juniper berries, it is hearty, filling and intensely flavoured with a silky, thick sauce.
Ingredients:
1/2T Salt
1/2T Pepper
500g boneless venison, trimmed and cut into 2-inch cubes
3 T vegetable oil
3 thyme sprigs
2 whole cloves, crushed
2 juniper berries, crushed
2 bay leaves
3 (2-inch) lemon peel strips plus 2 tablespoons fresh lemon juice (from 1 lemon)
1 medium onion diced
1 medium carrot, peeled and large diced
100g sliced fresh button mushrooms
2 large garlic cloves, chopped
1 can whole peeled crushed tomatoes
2 cups beef stock
1C Brown Hill Hannans Cabernet
½ pack of hand made paccheri
METHOD:
Preheat oven to 180C. Mix together flour, salt, and pepper in a large bowl, add diced venison and toss to coat.
Heat 2 tablespoons of oil in a large oven proof casserole dish over medium heat. Working in 2 batches add venison, and cook, turning occasionally, until well browned, about 15 minutes per batch. Transfer venison to a plate. Add more oil, 1 tablespoon at a time, between batches as needed.
Place thyme, cloves, juniper berries, bay leaves, and lemon peel strips in a double layer of cheesecloth. Gather edges of cheesecloth and tie securely with kitchen twine, set aside.
Add onions, carrots, mushrooms, garlic, and remaining 2 tablespoons oil to oven proof dish. Cook, stirring occasionally, until onions are softened, about 15 minutes. Add tomatoes, stock, cheesecloth bundle, lemon juice, and browned venison. Return to a simmer over medium-high heat and transfer to preheated oven. Braise, uncovered, until venison is fork-tender, about 2 hours, stirring in wine after 1 hour.
Return the dish to stovetop and bring to a simmer over medium heat. Reduce heat to low, and gently simmer until sauce has thickened slightly, 10 to 15 minutes. Remove from heat, Remove and discard cheesecloth bundle. Season with salt and pepper to taste. Serve over handmade paccheri with parsley and sour cream.
Enjoy served with our Hannans Cabernet Sauvignon!
Venison sourced from Margaret River Venison Farm, Hannans Cabernet sourced from Brown Hill wines, paccheri pasta sourced from Fine Foods of Margaret River.
Comments
Commenting has been turned off.