9 May 2019 | Brown Hill Blog | Chiara Bailey
Best places for brunch in Margaret River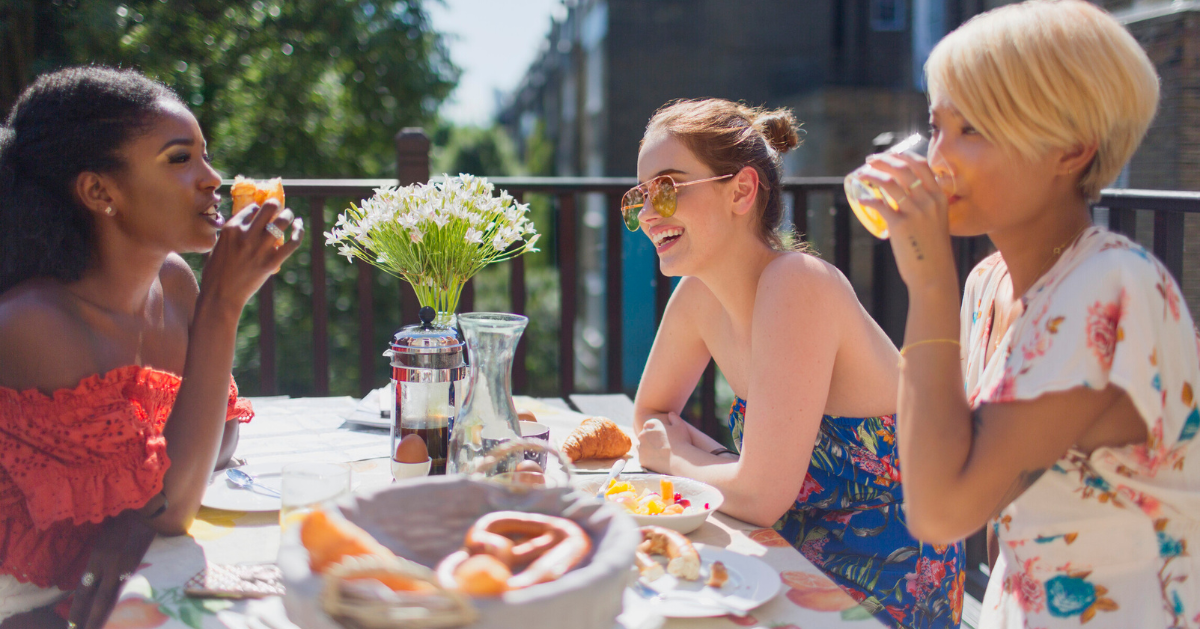 It's often said that breakfast is the most important meal of the day – and we at Brown Hill Estate agree, especially on the rare occasions when we have time to relax and take our time! Lingering over brunch with coffee and the newspapers is one of life's simple pleasures, and in Margaret River, we're lucky enough to have plenty of great brunch options to choose from, whether you're grabbing something on the run or breakfasting at leisure. Here's a rundown, in no particular order, of our morning favourites.
Brunch with a view like this is something no one should miss when they visit Margaret River. Its rock-star position overlooking the sparkling waters of Gnarabup Beach would be reason enough to visit, but good food and excellent coffee by venerable Aussie roasters Diamattina seal the deal. The brunch menu offers interesting twists on brunch classics, such as wild mushrooms with beetroot and thyme relish on sourdough, and a coconut bircher muesli with maple syrup, then ups the ante again with Spanish Eggs chorizo with smoked paprika and olive tapenade. Open daily from 7.00am except Christmas Day.
Its name may reflect its position as an offshoot of the Settlers Tavern, but this popular, streetwise cafe stands on its own two feet in its commitment to serving fine, single-origin coffee, courtesy of Melbourne roasters Dukes. Choose from espresso, pour-over or eight-hour cold-drip styles, then settle in and take your pick from a compact menu of house-made brunch staples, such as granola with labna, bacon and egg wrap made with a flour tortilla, or an 'earth' muffin made with spelt flour, fruit, nuts. Don't love coffee? Margaret River company Bahen & Co supplies the hot chocolate, and there's a range of fresh leaf tea and chai available, too. Open daily from 8 am.
For nearly 20 years, local roaster and Yahava founder Alex Kok has been sourcing the finest coffee beans from around the world for his burgeoning business, Yahava KoffeeWorks. His café franchises and Kwik Koffee drive-thrus are now dotted through along the WA coast, from here in Margaret River all the way up to Perth. A visit here is definitely all about the coffee – an immersive experience, where you can go behind the scenes at the roastery, sample different roasts at the tasting bench, scour the marketplace for takeaway beans, teas and equipment, and even take brewing classes. The menu offers brunch classics when you're ready to relax. Open daily from 9am.
About 10 minutes' drive south of Margaret River town, in the little enclave of Witchcliffe, Yardbyrd has been gaining a stellar reputation over the past couple of years for its friendly atmosphere, great coffee and delicious food. The quirky interior – furnished with vintage pieces and complemented by a leafy courtyard brimming with pots of herbs – makes a delightful spot to enjoy brunch while browsing the selection of newspapers and magazines on offer. Expect consummate coffee and a small but perfectly formed brunch menu (fresh apple bircher muesli, brekky burrito) focusing on the best produce of the region, including Geo Organics milk for your latte. Open daily from 6am weekdays, 7am weekends. Phone (08) 9774 5639.
Not far from Brown Hill Estate is The Berry Farm where jams, sauces, syrups, cider, vinegar, and even wines are made onsite from local fruit. The food offered onsite in the Cottage Café is delicious. Their homemade scones come highly recommended and we suggest having the Beef and Red Wine pie for lunch – it's famous in Margaret River. Phone (08) 9757 5054.
This iconic bakery / café has been waking up the main street since the 1960's and is the ideal place to stop in town. Famous for their European cult classics such as the Benedict Toasted Sandwich. Big breakfasts, great coffees and difficult to resist cakes are all on offer. Open 7am to 2pm but get in early as they often sell out of the local favourites.
One of the best places for coffee in Margaret River, Blue Ginger Cafe is an relaxed cafe that is also pet friendly. Enjoy their hearty healthy food with daily specials for breakfast and lunch. One half of the cafe is a vast delicatessen which has a fantastic selection of interesting ingredients and food styles to suit all palates - gluten free, sugar free, vegan, vegetarian, the paleo, the ancient grainer and even the good old-fashioned big brekky, burger eating omnivore. Call (08) 9758 7619.
This quirky little coffee and croissant bar makes amazing coffee and pastries. Right in the heart of town it is an ideal spot to grab a coffee and a delicious treat. (not many table inside but there is some public seating outside this area) Husband and wife team, Lyndon and Marcelle Egberts, were the proud owners of Margaret River Bakery Café for 15 years but sold the business and opened Egberts. French in style, Egberts offers sweets and pastries that are just delicious with their amazing coffee. Casual dining is a favourite with the locals and can get busy so we suggest to get there early to start your day. Tel (08) 9758 8338.
Comments
Commenting has been turned off.