1 November 2020 | Nathan Bailey
A Golden Tale - 25 Years in the Making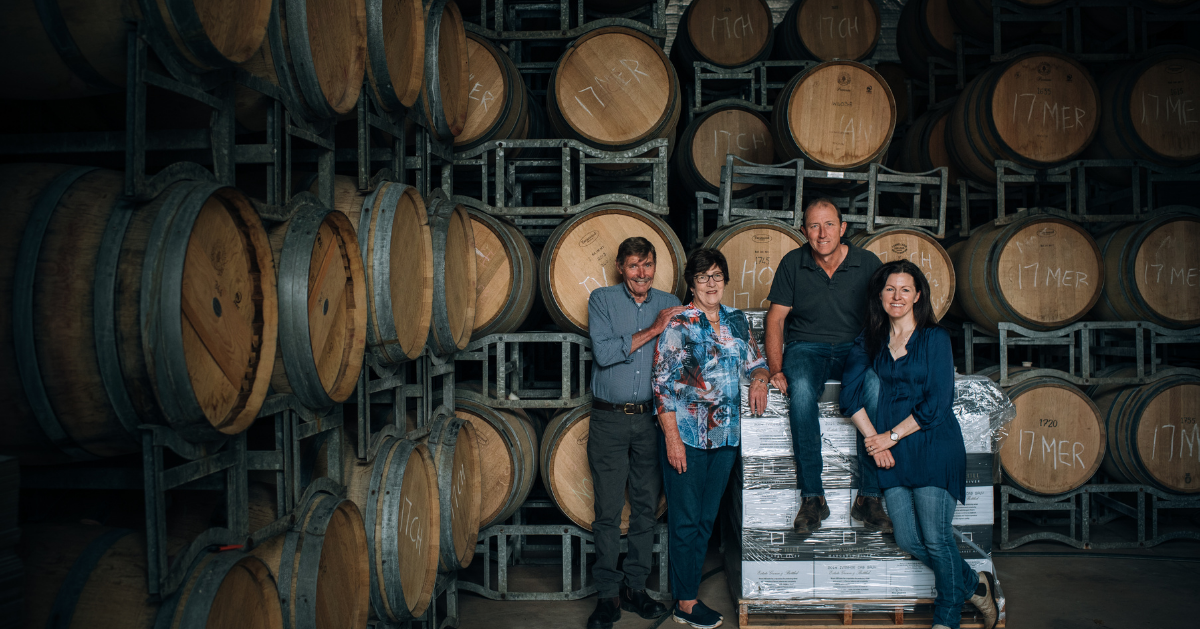 The Brown Hill tale is steeped in stories of the land, hard work and perseverance, maybe with a little luck thrown in for good measure. Our connections to the local mining community in Kalgoorlie lie at the heart of our wine story.
THE WEST AUSTRALIAN MINING CONNECTION
Jim Bailey grew up in Boulder, on the Golden Mile in Western Australia's Kalgoorlie mining region. Gwen Bailey (nee Murray) grew up in Kalgoorlie and her Great Grandparents and Grandparents lived in Brown Hill. When Jim and Gwen made a career transition into wine, they named the brand after Brown Hill, which was the claim that made the Golden Mile famous. There were certain treasures for us to discover on our new adventure, first and foremost being the unique land in which the grapes are grown.
In 1987 Jim and Gwen Bailey purchased our property in the iconic Margaret River wine region due to its rich red and gravelly soils on north facing slopes. It was the ideal environment to craft something special. 1994 saw the first cuttings grown in our own nursery which was actually a small purpose-built backyard. The soil was turned over and the first vines planted in 1995 to Sauvignon Blanc.
With the decision to add more grape varieties and the need for more workers and more funds, they embarked on a joint partnership with their son Nathan. And so Semillon, Cabernet, Shiraz and Merlot were planted and a new adventure began.
REAPING THE REWARDS
The decision was made to make our own wine in 1998 and the following year we decided to acknowledge our heritage to the Kalgoorlie/ Boulder region and named all our wines after distinctive gold mines in our home town. Hence where the moniker for Golden Horseshoe, Great Boulder, Ivanhoe, Jubilee labels are derived. April 2000 saw our first harvest with a small parcel of grapes (5 tonnes) picked and sold to a local winery. The winery shed was erected in late 2000 and winery equipment installed.
Our first vintage was in 2001 and it took tendays to pick the 12 tonnes of grapes we harvested. We handpicked with a small family team of Nathan, Jim, Gwen and Chiara and two hired hands. Family were roped in to assist, Nerida, Uncle Bill, Denis Penfold and Kerry Bell helped pick when they were available. After picking throughout the day, Nathan, Jim and Pete would then process the grapes at night. The first bottling day was 7 September 2001. Our Portavin mobile bottling plant arrived at 6:00am on a Sunday morning. Gwen and Chiara were on the bottling line making boxes, putting in the cardboard inserts, stacking bottles in the cases and lovingly sealing them. Nathan was on the forklift loading pallets of empty bottles onto the bottling line while Jim and Dennis marked and packed the cases of wine onto pallets.
The bottling plant left about 1:30pm and we all sat down exhausted but happy as we were surrounded by 500 cases of Brown Hill wine. Four wines were produced from the 2001 vintage - Lakeview Semillon Sauvignon Blanc, Charlotte Sauvignon Blanc, Chaffers Shiraz and Desert Rose. It seemed like an enormous feat at the time to produce such a range, tiny in hindsight given we now have a total of 18 wines available to enjoy!
CELLAR DOOR OPENS
Our Rosa Brook Cellar Door opened in October 2001 with Chiara and Gwen running the tastings and Nathan and Jim helping when they could. We were proud to receive our first awards in 2002 for our 2001 Chaffers Shiraz which received a 5-star rating with Winestate Magazine and a medal at the 2002 Perth Royal Show. Also our 2001 Hannans Cabernet received a Silver medal at the 2002 QANTAS Mount Barker Wine Show. The vineyard operation expanded over the years to allow us to capitalise on the growing demand for premium Margaret River wines. In 2006 Nathan and Chiara purchased the property across the road from the winery and planted more vines. Chardonnay was planted in the new property in 2006 and in 2007 Malbec, Shiraz and Sauvignon Blanc were added. Our barrel hall was built in 2010 and we were also thrilled to receive the 2009 and 2010 award for the Best Small Producer of the Year with The West Australian Wine Guide.
We proudly handpick our grapes and in 2015 purchased a sorting table so that we could move to hand sorting to complement our handpicking ethos.. Then in 2018 we won the Best in Show at the 2018 Decanter World Wine Awards for our 2014 Perseverance Cabernet Merlot – what a wonderful surprise and accolade to place us among some of the world's finest brands.
AN EXCITING FUTURE AWAITS
Our winery continues to be family run with Gwen and Jim in the cellar door, Chiara running the office, sales, marketing and in the cellar door and Nathan can be found in the vineyard tending to the vines or in the winery making our wine.
Comments
Commenting has been turned off.