23 May 2018 | Nathan Bailey
2014 Perseverance Cabernet Merlot wins 'Best in Show' award at prestigious Decanter World Wine Awards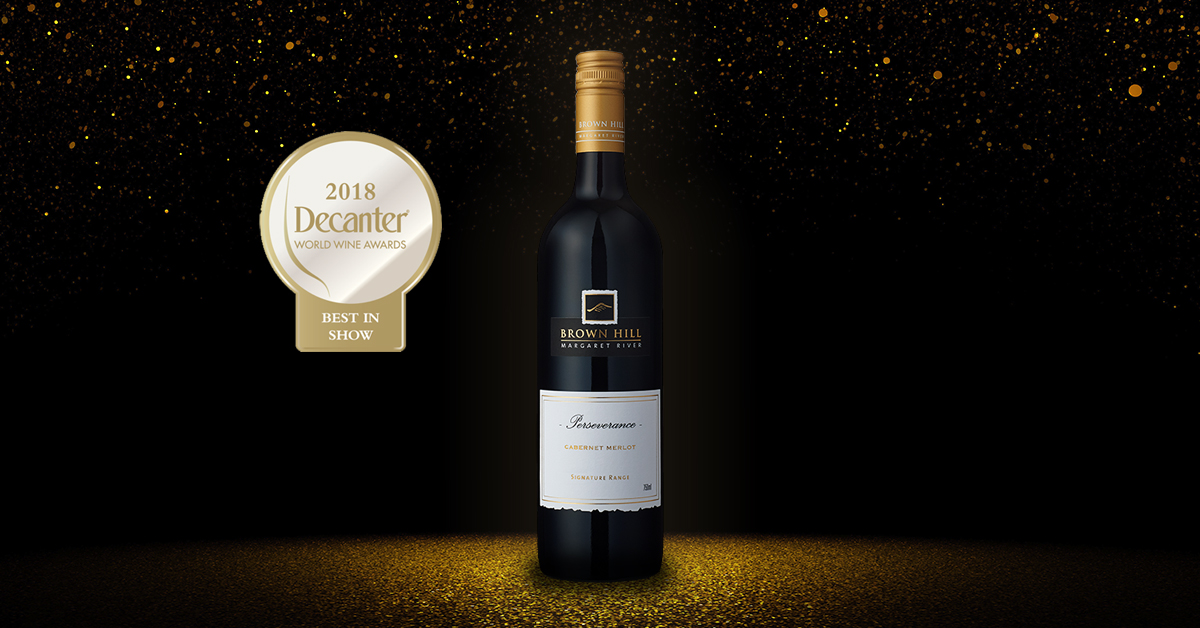 Launched in 2004 by Decanter Magazine, 2018 is the fifteenth edition of the Decanter World Wine Awards (DWWA) competition. DWWA has judges from all over the world, including Masters of Wine and Master Somelliers, and many of them are the foremost experts in their field. The judges taste wines individually. They then compare notes on the wine and reach a consensus on each wine's medal.
Medal categories correspond to the 100-point scoring system used by Decanter and many top wine critics around the world. During the first week of judging, all of the wines are tasted and discussed by specialist panels with their Regional Chairs. Judges award Bronze, Silver and Gold medals. This year, 3,399 wines received a commended Seal of Approval which describes a wine that judges would take simple pleasure in drinking a glass of. Gold medals only go to wines considered genuinely outstanding by the expert panels in lengthy discussion with the Regional Chairs.
Gold medal wines are then re-categorised by the grape or style and re-tasted by a panel consisting of Regional Chairs and Co-Chairs. This year, all of those wines receiving gold medals were re-tasted the following week by the co-chairs and selected regional chairs, not only to guarantee their quality but to come up with the stratospheric class of Platinum. Finally, on the last day of judging, the co-chairs re-taste all the Platinum wines to select the Top 50 Best in Show.
In contrast to previous years, these tastings are not regionally streamed and wines were not put into categories: chairs were not looking for the best wines from a producing zone or a specific grape variety but for the absolute quality.
BROWN HILL 2014 PERSEVERANCE CABERNET MERLOT MAKES THE TOP 50!
In 2018 there were 50 awards given out for 'Best in Show' globally, with only 6 Australian producers receiving such an accolade. Over 16,905 wines from 60 countries were tasted by the 270+ judges. So, it goes without saying that Brown Hill Estate was chuffed to have picked up a Best in Show award for the 2014 Perseverance Cabernet Merlot, the only West Australian Winery to receive such an accolade.
In this year's Top 50 Best in Show there were a range of wines including three Burgundy Grands Crus, 2 Australian Shiraz, three Riojas, three Rhônes and three fine sherries. But the chairs were alert to the quietest, most subtle forms of wine beauty, too, and the Best in Show list also included a Canadian Cabernet Franc, Gemischter Satz from Vienna, Valtellina Superiore Inferno, Alto Adige Pinot Grigio, Savennières, Cava and rosé wine from Bandol. The Best in Show is the ultimate accolade at the Decanter World Wine Awards.
Our Winemaker and Owner Nathan Bailey noted "It's nice to see a small boutique producer like Brown Hill Estate being acknowledged for a wine like the 2014 Perseverance Cabernet Merlot. We like to think of our wines being world class, and this accolade just helps to showcase the special style of wines that we're producing in Margaret River."
The 2014 Perseverance Cabernet Merlot is a true expression of the Brown Hill Estate Wines and the unique Margaret River regional style, sourced from our own vines that produce highly intense fruit, in low yields. Only the best parcels of Cabernet Sauvignon and Merlot were handpicked and hand sorted, then treated separately before coming up with the final blend. It's distinctive, and really speaks of the spiritual ties of Margaret River to Bordeaux, along with showcasing the exceptional 2014 vintage in the region. There were 200 cases produced.
Comments
Commenting has been turned off.