5 April 2019 | Chiara Bailey
Wine and Chocolate Pairing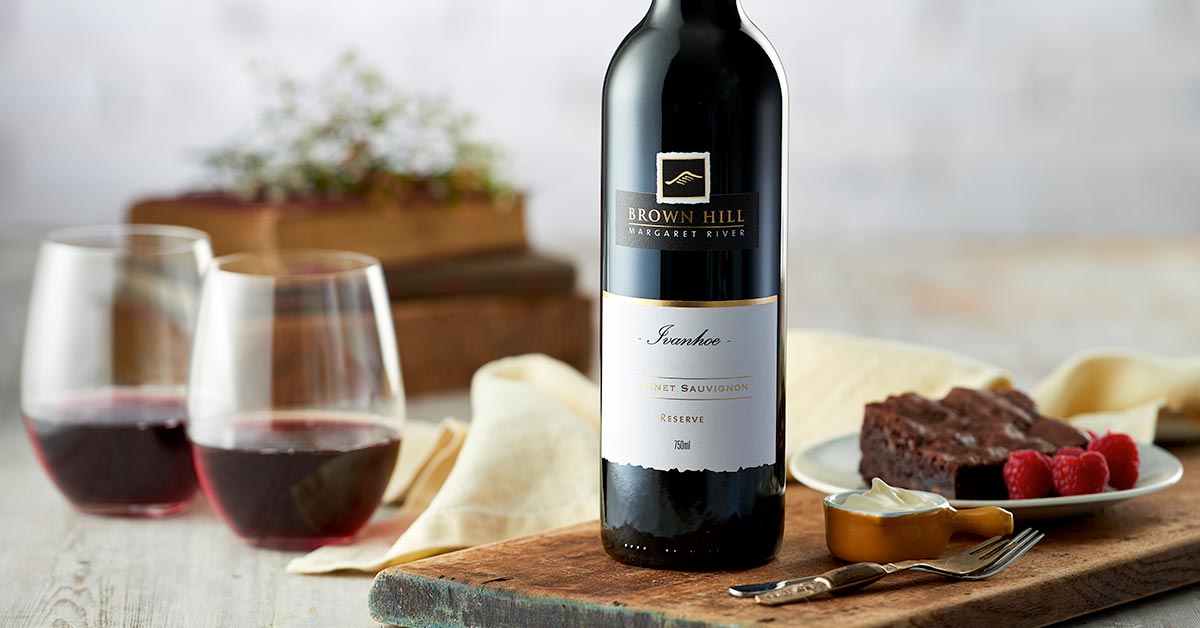 When you think of wine pairing, what comes to mind? While I'm a sucker for a cheese board with quince and honeycomb (and a few glasses of wine of course!), there is something to be said for indulging the guilty pleasure of chocolate while enjoying your favourite drop. Why not finish you next dinner with a wine and chocolate pairing?
Because of the sweetness of chocolate, it can be tricky to match it to a glass of wine but here are a few combinations that I have found particularly appealing - using Brown Hill wines of course!
Desert Rose – White Chocolate
Because of the acidity of dry white wines, the contrast to the sugariness of chocolate, and white chocolate in particular can make the wine taste sour. To overcome this try a rosé like our Desert Rose. The soft texture pairs beautifully with the richness of the chocolate while the sweetness is beautifully paired to the fragrant strawberries and cream aromas of the wine. I love locally sourced white coconut rough from Temper Temper as the coconut really adds another dimension to this decadent experience.
Croesus Merlot - Milk Chocolate
Milk chocolate is a sweeter and creamier chocolate with flavors of brown sugar, vanilla, and cream. It needs a wine that is light to medium in body, with a ripe fruit character. Our Croesus Merlot is elegant and sumptuous. Flavours of mulberry and blackberry with a great earthy finish make it ideal to pair with milk chocolate.
Fimiston Reserve Shiraz – 70% Cacao Dark Chocolate
Our Fimiston Reserve Shiraz is a rich, luscious and velvety wine. There is warm, savoury spice on the nose and pungent blueberry on the palate. Try matching this with a dark chocolate. Sip the wine, nibble the chocolate and then sip the wine again. This slightly bitter, less sweet chocolate will reveal layers of flavour in the dark, broody wine that you may not have otherwise noticed. Local Margaret River Bahen and Co makes a delicious dark chocolate with sea salt and almond.
Perseverance Cabernet Merlot – Espresso Dark Chocolate
For those of you who enjoy dark chocolate, you know that once the cocoa level gets this high it's serious business. It's no longer a sweet treat or for the faint of heart. The chocolate is more like a strong espresso, bitter but complex. Such a serious chocolate deserves a serious wine. Our Perseverance Reserve Cabernet Merlot is just such a wine. Cedary, earthy aromatic notes introduce you to a wine which is a delicate balancing act of rich fruit, dry tannin and subtle oak. The powdery, texture of the chocolate will pair wonderfully with the chalky tannin in the wine. As a coffee lover I love pairing this with Margaret River Chocolatier Gabriel Chocolate's Espresso Dark Chocolate.
There you have it. Our Margaret River wines matched with delectable South West chocolates. Of course you may wish to try your own combination of wine and chocolate pleasure! Add a platter with dried muscatels or figs and some unsalted nuts to really finish the experience.
Comments
Commenting has been turned off.