17 June 2022 | Recipes - Brown Hill
Whiting, butternut pumpkin and crispy sage bruschetta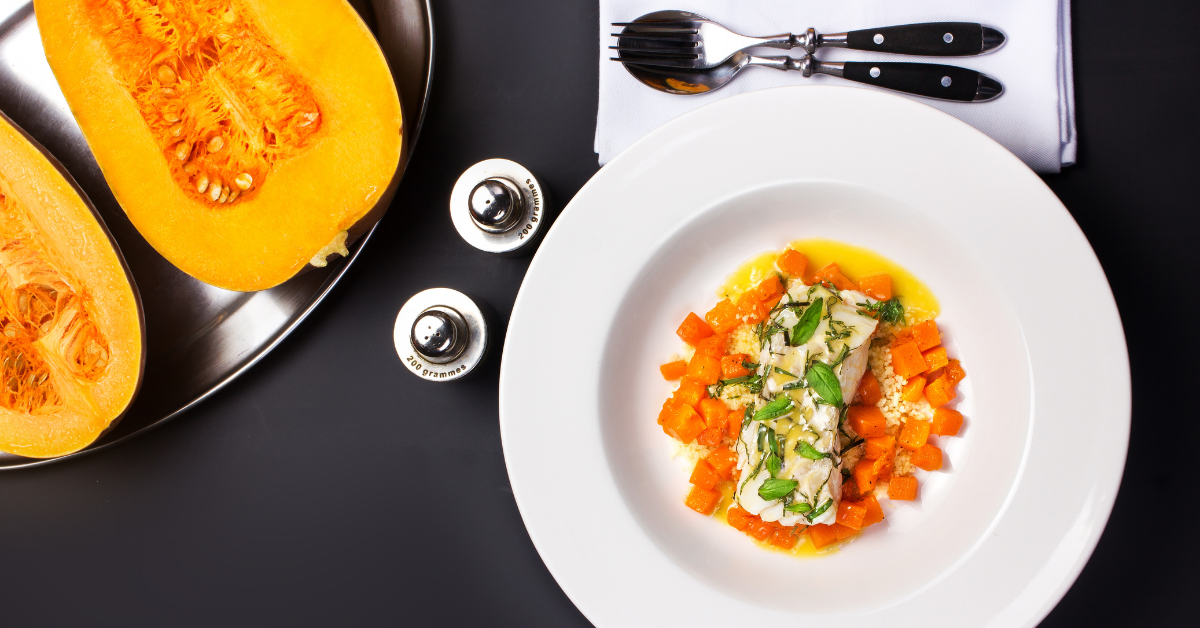 Local Chef 'Devilysh Desserts' has paired some fabulous recipes with our wines - we hope you enjoy this delicious dish accompanied with a chilled glass of our Golden Horseshoe Chardonnay. An unusual brushetta, the delicate flavours of the whiting, beautifully cooked in butter and sage, complement the caramelised pumpkin with the toasted sourdough adding a lovely crunch.
Ingredients:
750 gm butternut pumpkin, diced into 1cm cubes
3 tsp brown sugar
2 tbsp olive oil
8 thick slices rye sourdough bread
2 garlic cloves, halved for rubbing
10 fresh sage leaves
4 fillets of whiting cut in half
2T vegetable oil
3T butter
Fresh roquette
Method:
Preheat oven to 220C. Combine pumpkin, sugar and oil in a roasting pan, season with salt and pepper, toss to coat and roast for 15-20 minutes until golden brown and caramelised at the edges then turn the oven down low to keep pumpkin warm.
To cook the whiting heat a frypan on a medium to high heat, add vegetable oil once the oil starts to ripple by itself then it is hot enough, carefully place the whiting fillets skin side down laying them away from you to avoid oil burns. Cook for a minute then carefully flip, turn heat down to a low and add butter and sage cook for another minute and spoon the sage butter mix over the fish. Once fish is cooked set aside.
Toast bread and rub toast with cut sides of garlic, then a spoonful of pumpkin mix followed by a piece of whiting, finished with fresh roquette and a drizzle of balsamic glaze. Serve immediately.
Enjoy served with our Golden Horseshoe Chardonnay - a full bodied and balanced wine perfect with any flaky white fish or salmon.
Whiting sourced from Southern Oceans Seafood Augusta, pumpkin sourced from Manjimup Fruit & Veg, bread sourced from Margaret River Bakery, balsamic glaze sourced from Whirlwind.
Comments
Commenting has been turned off.