22 January 2020 | Nathan Bailey
The story of our Bill Bailey Shiraz Cabernet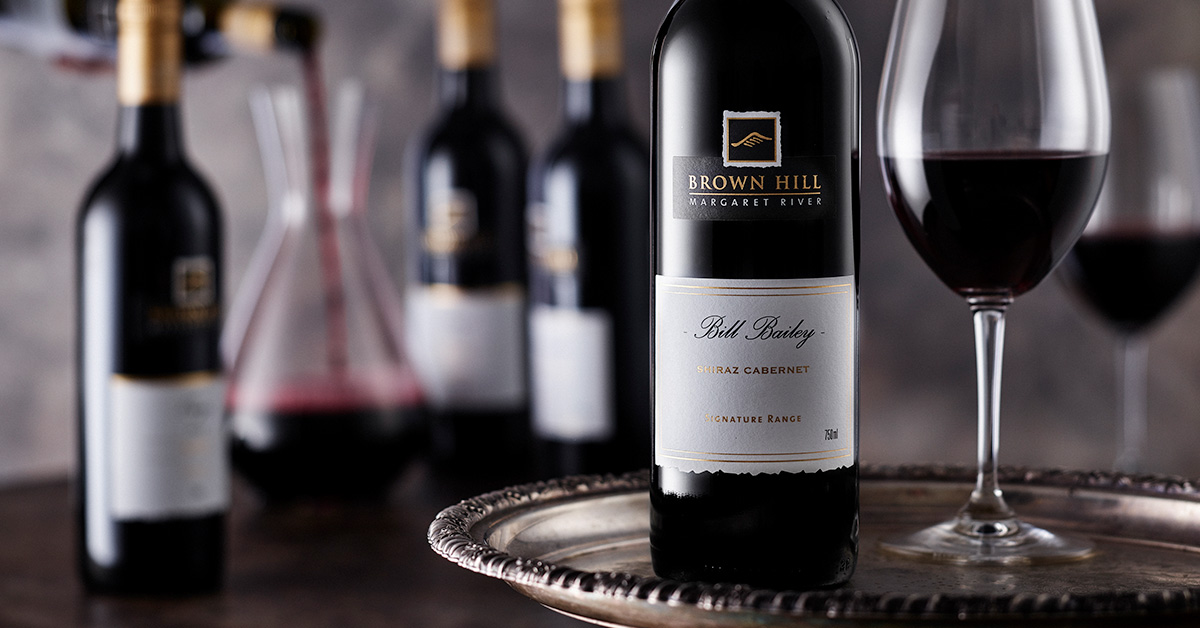 Brown Hill wine lovers have come to know our Bill Bailey Shiraz Cabernet over the years. It's a Margaret River wine that is made in small quantities, and only in years where the vintage conditions are perfect. It really is something special.
As a family, we certainly have a soft spot for this wine and it's one that we hold in high regard given the family connection. It's named after my late Uncle Bill (my dad Jim's eldest brother) who was very close to us all. Uncle Bill was born and bred in Kalgoorlie and worked as a Mining Engineer in the town all his life. Bill was larger than life and a huge advocate of Brown Hill wines. He often visited us to help in the early years when we were establishing the winery and provided inspiration or just a good old chat. So it was natural that we'd name one of our finest wines in his honour.
We'd explored making a wine from the best of our Margaret River shiraz and cabernet sauvignon grapes, and the inspiration for the Bill Bailey style came from the north east of Italy, in the Veneto region. Here vintners follow an ancient formula in which wine is made from drying raisins on straw mats. The wine, known as Amarone, has a higher concentration and alcohol, but is silky on the palate. Even today Amarone is one of Italy's most distinctive wines.
Our Bill Bailey is grown very much in this Amarone style. The shiraz and cabernet sauvignon grapes from our premium Margaret River vineyards are picked six weeks later than the others so that the berries are mainly raisins. The result is a very ripe, raisin like full bodied wine with a beautiful and soft acid structure. Because it's picked so late in the season, it heightens the risk of spoiling the grapes – often losing the crop as the season breaks and the autumn rains roll in.
The Bill Bailey Shiraz/ Cabernet has been made since 2001 and it continues to rate amongst the finest Margaret River blends produced, distinctive in a tasting line up because of its unique style. In recent years we've only released a vintage in 2001, 2004, 2005, 2007 2008, 2009, 2010, 2011, 2012, 2013, 2014, 2016 and now 2018.
Just like other wines in our Signature Collection, we only make Bill Bailey in small parcels, often with only a few hundred cases being made. It is a wine that consistently receives rave reviews and sells out very fast with our members. The 2016 vintage was released in November 2018 and was all gone eight weeks later! This particular vintage scored 97 points from Ray Jordan and was named Runner Up Best Red Blend, WA Wine Guide 2019.
Bill Bailey Shiraz Cabernet – a wine that truly depicts the vintage
The enjoyable part about making a wine that really reflects the vintage conditions is that it evolves from season to season. When I recently tasted the 2011 vintage, what struck me was the lovely mulberry and jammy black fruit flavour. It's an intense wine that reflected the warm growing season. The 2016 vintage was very different – more blackcurrant and cherry flavour but as it ages, I suspect there will be a battle going on between the lusciousness of the shiraz and the robustness of the cabernet. Just like my children, these wines are all different.
2018 has its own nuances. It was also delicately handpicked and has an intensely concentrated flavour. The bouquet is raspberry jam with ripe plums and hints of cassis. It's a complex wine with multiple layers on the palate – packed with cherries, mulberries and blueberry notes, finishing with dense silky tannins. I'm sure that it will continue to evolve over the years if it lasts that long in your cellar.
How do you secure your future Bill Bailey collection?
Join our Wine Club of course! In 2019 our Signature Range Wine club customers had access to Bill Bailey Shiraz Cabernet to enjoy for an entire year. It's a great way of making sure that you savour our finest selection and don't miss out on our award winning small parcel releases.
Comments
Commenting has been turned off.