2 February 2018 | Brown Hill Blog | Nathan Bailey
Best Fishing Spots In Margaret River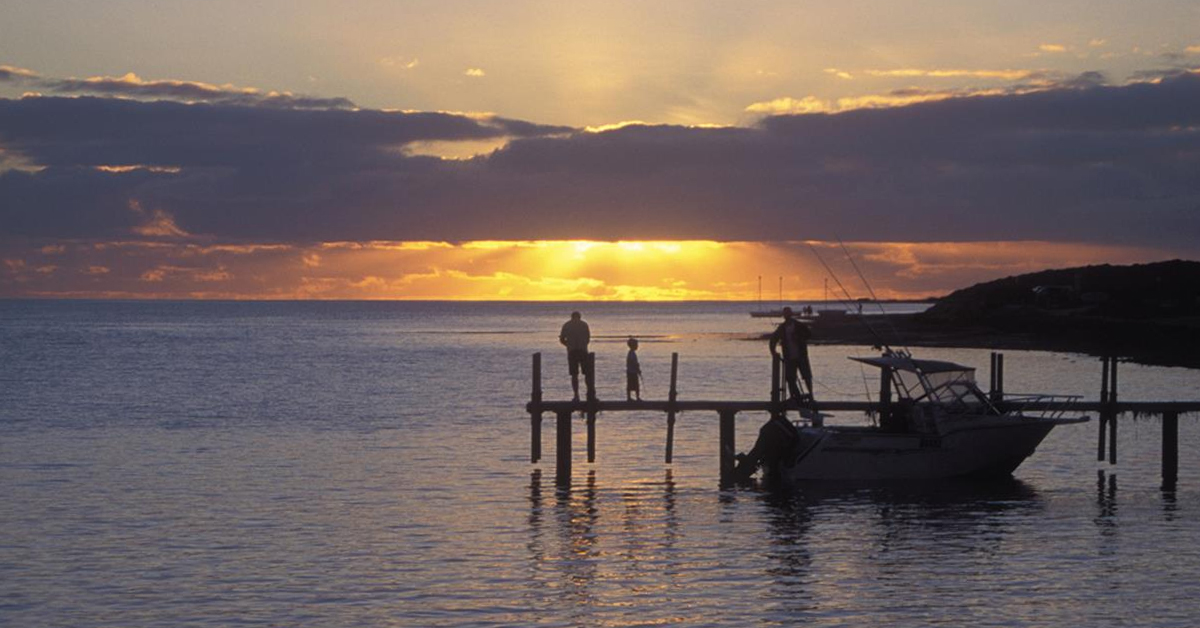 Fishing is one of the most popular Margaret River pastimes at our pristine waterways, alongside surfing and swimming. According to local statistics, more than 400,000 amateur fishers visit Margaret River and Western Australia every year to fish in our local waters. Amateur fishers don't need to obtain a licence if they're fishing from a beach, but if you fish from a powered vessel or are fishing for abalone, crayfish, marron or net fishing or fresh water angling, you do need a licence. More information can be found here.
We love fishing at Brown Hill Estate. Nathan and his boys spend hours throwing in a line and hoping for the catch of the day. So where are our favourite spots? Here's our line-up of the Top 5 Fishing Spots in Margaret River.
Geographe Bay in Busselton
This legendary fishing spot is a favourite with locals and tourists alike. Named by French explorer Nicolas Baudin after his ship Géographe in 1801, the bay is a hot spot for Blue Manna crabs and squid. Bigger fish like mulloway, tuna and salmon can turn up here, too. We often jump in the tinny and drop a line in, as it's protected from the rough seas of the Indian Ocean.
Augusta Marina
The Blackwood River winds its way to the ocean in Augusta, which makes the lower reaches of this waterway great for herring and sand whiting. Further upstream, you might be lucky to find black bream lurking around. And at Alexandra Bridge, take advantage of the annual salmon run, which brings in the crowds.
Kilcarnup
Crayfishing and Margaret River go hand in hand. Gary, Brown Hill Estate's neighbour, is an experienced free diver, and he uses his skills to catch crayfish (rock lobster) at Kilcarnup, often bringing home his haul, which includes a crayfish-packed Esky for us. Thanks Gary!
Gnarabup
If you're looking for a family-friendly day out, head to this fun beach that's often packed with people swimming, snorkelling and fishing! Or head up to the river mouth at Prevelly Park, which is a fantastic spot for fishing. In winter the waterways are stocked with salmon on their annual spawning run. And from October to May you can fly-fish for black bream. Head back to White Elephant Beach Café at Gnarabup for lunch – it's one of our favourite cafés with stunning views over the beach and great coffee and food.
Bunker Bay
This beautiful long beach with pearly white sand near the top of Cape Naturaliste is worth a visit alone and is great for families – it has access to the boardwalk right next to the café. Expect to pull out salmon, herring, tailor, trevally, flathead and King George whiting.
BOB'S HOLLOW
Just a short trip south of Margaret River is the track that takes you out to one of the best beach fishing spots in the region. Not to be confused with Bobs Track this little 4x4 track is tight, sandy and has a few tricky spots where you will really need to pick your line. Once you have tackled the track there is a beautiful open area on top of the cliffs where you can park up. A quick explore of the area around and you will discover the Hermit's Cave which is an idyllic spot for a picnic lunch. Time for fishing – then make your way down the cliff face and onto the Cape to Cape Track. Turn north and a quick 10 minute walk to locate the awesome hidden beach where you will find abalone and cray easy to access. Throw in a line and you won't be disappointed, but remember you have to carry it back up the cliff!
OLD DUNSBOROUGH BOAT RAMP
The rocky outcrop right next to the boat ramp has been nicknamed 'fish rock' for a reason. Many a summers' night has been spent on the rocks watching the whales migrate and putting in a line to see what dinner could be that night. Extremely kid-friendly with a playground and a pontoon enclosed swimming area (seasonal). The boat ramp is a great spot - there's even a curry van for those days you go home a little lighter than expected.
Comments
Commenting has been turned off.