12 May 2018 | Brown Hill Blog | Recipes - Brown Hill
Beef Burgundy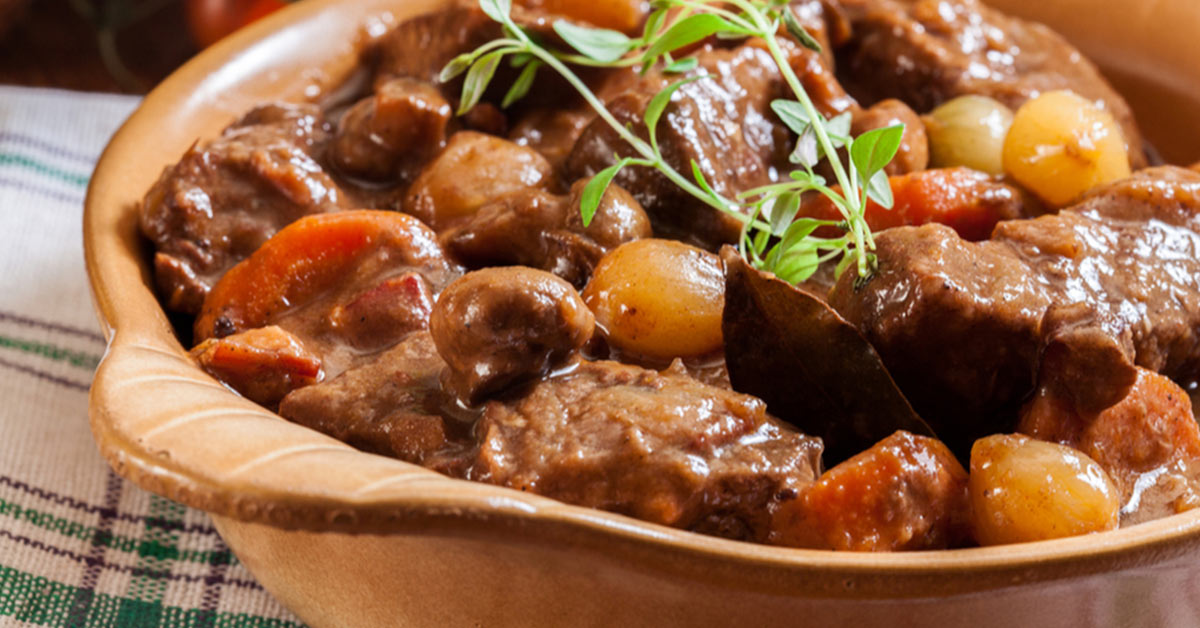 David Charcosset was one of our vintage pickers over the 2016 harvest season – he also happens to be qualified chef from the Loire Valley in France. Brown Hill's rich, chocolatey Perseverance Cabernet makes a perfect partner for David's beef burgundy – especially with its chocolatey twist at the end!
Ingredients
1 kg beef diced
1 small amount of plain flour
2 tblspn olive oil
2 garlic cloves, finely chopped
3 Litres red wine, preferably Brown Hill's Perseverance
5 carrots, chopped into large chunks
3 red onions, chopped into large chunks
250 g mushrooms, chopped
10 potatoes, chopped into large chunks
1 bunch of thyme sprigs
30 g dark chocolate, broken into pieces
6 servings of steamed rice and bread, to serve
Method
Coat diced beef in flour.
Heat olive oil in large casserole pot and brown beef over high heat. Add garlic and sauté.
Add 1L of wine and allow it to thicken. Add remaining wine, and when wine is boiling, carefully light liquid. Once flame has disappeared, add all vegetables and thyme and season to taste. Bring to boil again, then cover with lid, and reduce heat to a simmer for six hours.
After six hours, add chocolate to beef mixture and stir until melted.
Serve beef burgundy with rice and bread.
Image source: Pinterest
Comments
Commenting has been turned off.