Gianmarco Salerno's Pasta with Red Wine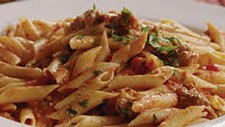 Recipe Date:
6 March 2015
Ingredients
500 l pasta
Olive oil
1 onion, chopped
300 g Italian sausage, skin removed and meat chopped
400 ml Ivanhoe Cabernet Sauvignon
200 ml fresh cream
30 g butter
Directions
In a large pot, cook pasta in boiling water until al dente.
Meanwhile, heat olive oil in a frying pan and cook onion and sausage together. Season to taste.
Add red wine and cook for 5 minutes. Stir through cream and cook for a further 3 minutes.
Remove from heat.
When pasta is cooked, strain and stir thorugh red wine sauce.
Serve pasta with a glass of Ivanhoe Cabernet Sauvignon.