Golden Mile Shiraz Trio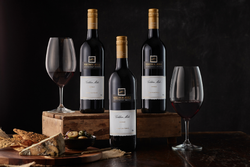 A special gift for the ultimate wine connoisseur – a three-pack of our 2017 Golden Mile Shiraz. Our new wine to celebrate 25 years of Brown Hill Estate and only 90 cases made.
This three pack includes:
3 bottles of 2017 Golden Mile Shiraz – very limited release.
pine gift box
shipping Australia Wide
Give as a gift and we will handwrite your personal message onto a gift card and deliver it anywhere in Australia - what could be easier.
*Note - to receive before Christmas Day please order by 10 December for WA customers and 4 December for the rest of Australia.
Prefer to buy a single bottle or add to your mixed dozen order? Click here to order.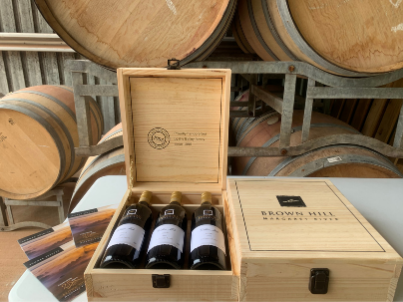 Product Reviews
Janaya
(17/12/2020 at 10:22 AM)
We visited Brown Hill in July 2020 once boarders opened up. We had to postpone our wedding so we were keen for a little getaway. I always visit Brown Hill, so it was a must on our 2 day trip down south, my partner has never been. We tried the Golden Mile when we were there and loved it. Bought a bottle intending to cellar it for 10 years as recommended. Upon return to Perth we instantly regretted not getting more, but it was for cellar door purchase only. We bought a mixed dozen that day so we were trying not buy 6 of everything. So when I saw the email come through for the three pack of the Golden Mile I didn't hesitate to purchase more (though missed out on this cute wooden box). We gifted a bottle to each of our parents to say thanks for their support this year and have told them to cellar it and kept the 3rd bottle for us. We now have 2 bottles of the Golden Mile in our collection waiting to be open. We plan to open 1 at five years and the other at 10 years. Delivery was extremely quick, the next day I got notified that my order was being prepared. Brown Hill make such good wine, I go back every year to stock up. I even wouldn't hesitate to buy without trying cause I know it will be great wine. Plus the hospitality is always wonderful, lots of laughter and love hearing all the stories, including this time round about the reason behind the Golden Mile. My parents even fell in love with them when they came over and visited WA for the first time and on this same trip we sent my partners parents there as a must visit and they bought a dozen wines from them. People hesitate to spend more then $40 on a bottle of wine, but will easily spend $100 on a $40 bottle of wine at a restaurant. The Golden Mile is worth every cent and to keep a little bit of history at the same time.
Andrew
(21/01/2021 at 12:41 PM)
We were first pointed to Brown Hill Estate by one of the major wineries in MR, who raved about their reds, and it's become our favourite. For the ultimate taste pairing, buy some plum jam from the Berry Farm, and you will capture the essence of the Shiraz and Cabs:) If you're lucky, Nathan will be there to talk you through their processes--by far the best lesson in winemaking steps we've received. And even though I personally don't like SBSs as a general rule, the highly aromatic Brown Hill SBS is an entirely different beast. The entry-level reds are lovely, but once you hit the Perseverance, Bill Bailey and Golden Mile, you enter an entirely new dimension. Gorgeous wines to drink now or later (although I put the Croesus Merlot down for a few years).