Brown Hill's Mixed Dozen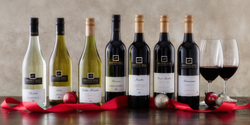 Our 2021 Mixed Dozen is full of wines guaranteed to suit even the fussiest of wine drinkers – there's something for everyone. This mixed dozen includes:
2 x 2020 Charlotte Sauvignon Blanc - Best Sauvignon Blanc Perth Royal Show 2020
2 x 2018 Golden Horseshoe Chardonnay - 94 pts James Halliday
2 x 2020 Jubilee Semillon
2 x 2019 Hannans Cabernet
2 x 2018 Ivanhoe Cabernet - 95 pts James Halliday, The Weekend Australian Magazine
1 x 2019 Great Boulder Cabernet Shiraz Merlot Malbec
1 x 2018 Perseverance Cabernet Merlot - 95 pts winecompanion.com.au, Silver Decanter World Wine Awards 2020, 94 pts Ray Jordan West Australian Wine Guide 2021
*includes free shipping Australia Wide
Product Reviews
Natasha Benson
(05/02/2021 at 2:09 PM)
Lovely selection of wine for the whole family, we used some of the bottles for presents and keep some of our favourites for us to enjoy! Perseverance Cabernet Merlot is an absolute Beauty!