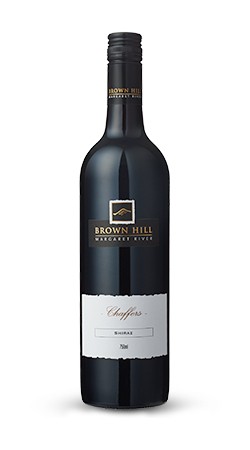 An exotic bouquet showing lovely red berry fruits intermingled with incense, cedary oak anc chocolate. Delicious black cherry flavours dominate the palate which is softly structured with fine tannins.
Product Reviews
Annie Daly
(18/05/2017 at 11:19 AM)
Delicious! Lives up to the wine makes description.
Merren C
(04/06/2017 at 7:36 PM)
We've bought this wince over a few years and really think this 2014 is one of the best!
Chris H
(01/07/2017 at 12:19 AM)
Best Shiraz in Margret River region for 20 bucks!
John S
(01/07/2017 at 1:53 PM)
Discovered Brown Hill in 2004. Still an exceptional wine and incredible value
Neville Taylor
(03/07/2017 at 6:19 PM)
Consistently well managed wine with all the characteristics of what this grape variety is expected. A very good wine.
Jarek Z
(06/07/2017 at 7:41 PM)
Reasonably priced, bold shiraz. Has become our go-to wine. Love it.
Adrian
(11/09/2017 at 10:12 AM)
We've been enjoying Chaffers for many years after discovering Brown Hill on a Margaret River holiday. Always a very good quality wine.
Bruce Adams
(18/09/2017 at 5:21 AM)
The usual high standard, excellent drop
Roger Wilson
(19/10/2017 at 11:33 AM)
The 2014 Chaffers Shiraz as are most Brown Hill reds, is pretty damn good. Have been drinking Brown Hill reds since inception and never ever get a dud. Well done Nathan and his team.
Terrry
(10/11/2017 at 11:40 AM)
Tried my first bottle of the 2014 vintage last night. It was superb. Well done Nathan.
Roger K
(11/12/2017 at 10:18 AM)
My go to shiraz, whole range is great.
ken coad
(12/02/2018 at 1:59 PM)
well worth the price
WENDY CLAXON
(03/03/2018 at 10:54 AM)
One of the best Shiraz's we have had.
Louise & Jeff
(27/04/2018 at 10:36 AM)
We have tried many vintages of Chaffers shiraz. Always reliable and good depth of flavour.
Gary Johnson
(22/05/2018 at 6:52 AM)
We've been buying and loving this wine for several years now. Try others from time to time but always come back to Chaffers for flavour, quality and price. Gary and Janet.
Hyacinth
(07/08/2018 at 9:20 PM)
Delcious
Inge
(15/08/2018 at 12:05 PM)
This vintage better than ever !
Matt Condie
(16/08/2018 at 1:43 AM)
Best value red in WA by a country mile