5 November 2015 | Brown Hill Blog | Nathan Bailey
Things to do in Margaret River
Margaret River Summer Holiday Ideas
Travelling to Margaret River over the summer holidays? At Brown Hill, we have a long list of must-do activities in our neck of the woods. And we'd like to let you in on a few of our absolute favourite places to eat and stay. From Margaret River accommodation options through to Margaret River restaurants, we have your trip covered. Read on for all the best travel tips in Margaret River.
Margaret River Restaurants
The Berry Farm Cottage Café
The café is just one of the attractions when you visit The Berry Farm in Rosa Glen. What began as a quaint farm is now a producer of fabulous fruit produce, from jams, preserves and dressings right through to fruit wines, muscats and vinegars, all made on premise. We can highly recommend dropping into the Cottage Café for morning or afternoon tea, or a country-style lunch. Choose from Fresh Scones with Berry Farm Jam, a Picker's Platter or Beef & Red Wine Pie in the wintertime. Kids can enjoy the Café's playground area while parents stroll through the vineyard. Sublime.
Open seven days, 10am-4pm.

La Scarpetta
Fancy pasta for dinner? Head to La Scarpetta for a brilliantly rustic traditional Italian experience. Situated in the heritage-listed Bridgefield Guesthouse in Margaret River, this is one of our favourite dining spots in the area. The team cooks with our wonderful local produce and is fully licensed with excellent local and international wine options. Spaghetti al Cartoccia is WA blue swimmer crab in a spicy chilli and tomato arrabbiata sauce – all oven baked in a paper bag. Sound tempting? Just wait until you smell the aromas.
Open seven days, 6pm-late. Also open for breakfast, 8am-10.30am.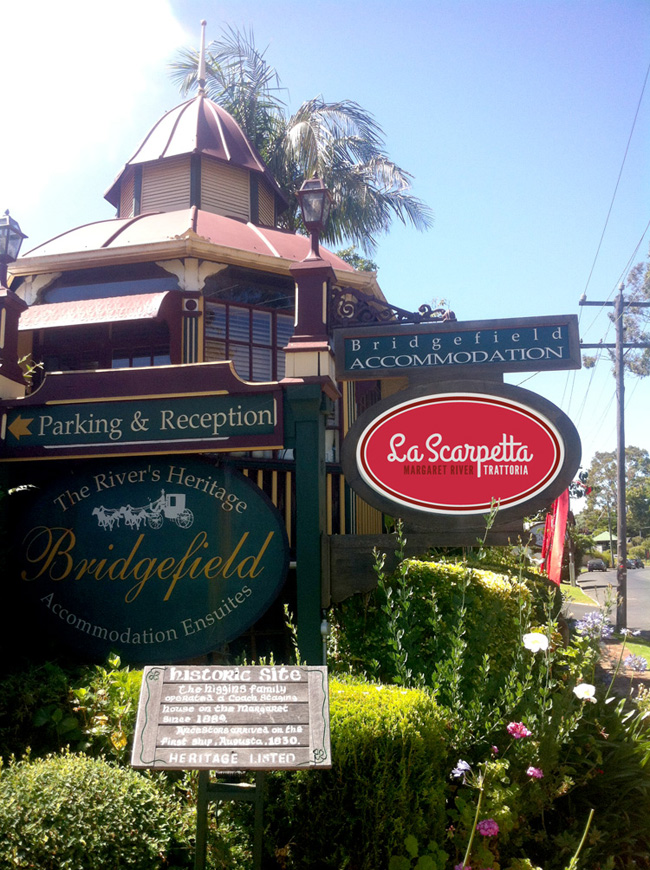 White Elephant Beach Café
During the summer months, we head to the beach at Gnarabup and feed our family at the White Elephant Beach Café. Take in the amazing blue waters and picturesque coastline while snacking on a wagyu burger with beer battered chips or steamed mussels in a white wine, cream and garlic sauce. The café offers casual fresh food, great coffee and friendly service. It's just been refurbished so now is the time to visit.
Open seven days, 7:30am-3pm-ish.
http://www.whiteelephantcafe.com.au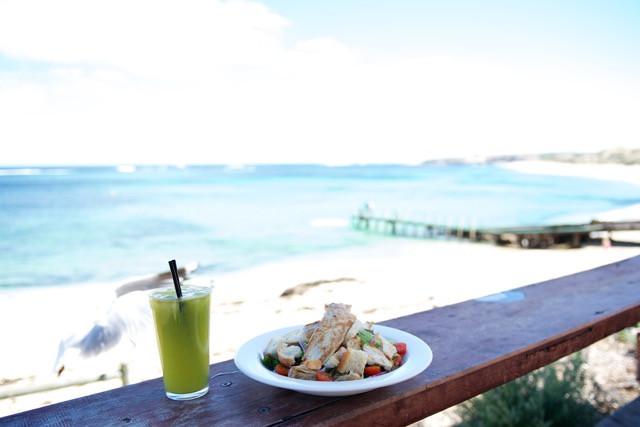 Margaret River Accommodation
Llewellin's The Guest House
One of the hidden gems in Rosa Brook's backyard is Llewellin's The Guest House, 10 minutes' drive from Margaret River's town centre, world-class surf beaches and caves, and, most importantly, its wineries, including Brown Hill Estate. Llewellin's is owned by James and Joanna Llewellin, who moved to Perth from the UK 13 years ago. After five years working in Perth, they headed to Margaret River and established Llewelin's The Guest House – a luxury bed and breakfast. Perched among hectares of tranquil native bushland, peppermint trees and wildlife, Llewellin's was recently voted by Trip Advisor as the No 1 Bed & Breakfast in Margaret River.
James' passion for food can be experienced in every meal he cooks at the guesthouse. Breakfast at Llewellin's includes scrambled egg with fresh homemade Manjimup truffle butter served with triple-smoked crispy bacon, slow-roasted tomatoes and Portabello mushrooms. If there are six in your party at Llewellin's, James will prepare dinner for you. He loves using fresh local produce, so expect to see it star on Llewellin's menu.
https://www.llewellinsguesthouse.com.au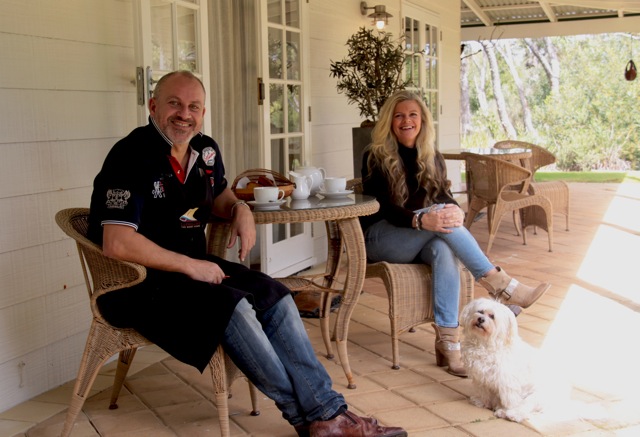 Rosewood Guesthouse
Rosewood Guesthouse is an award-winning luxury bed and breakfast in Margaret River. Rosewood is a home away from home – the guesthouse offers traditional style, a warm welcome, great breakfast and comfortable beds in the heart of the Margaret River wine region. There are six lovely ensuite guest rooms, with a comfortable guest lounge and dining room. It's a 10-minute stroll or a one-minute drive to the main street of Margaret River, and wineries and beaches are within a 10-minute drive. Jane and Keith will make your stay unforgettable.
http://www.rosewoodguesthouse.com.au
Bussells Bushland Cottages
Set in historic dairy farming country, Bussells Bushland Cottages is a gazetted "Land for Wildlife" property. The eight rustic rammed earth cottages sit among 20 hectares of beautiful native bushland, including jarrah, banksia and peppermint trees, as well as being home to prolific birdlife, possums, bandicoots and kangaroos. Only 5km from the township of Margaret River, this accommodation is the option for travellers who want a tranquil location that's not too far from the hustle and bustle of the main village.
http://www.bushlandcottages.com.au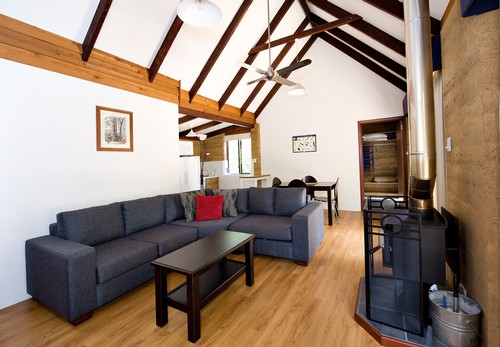 Margaret River Farmers' Markets
Margaret River is obviously known for its wine. And where great wine lives, so does great produce. These farmers' markets are where you'll find all the amazing producers from our region every Saturday morning. Our friends and Rosa Brook locals Debbie Serventy and Alan Darnell have a stall where they sell their corn and other produce. Mike and Bev Pimm from Agonis Ridge sell their organic meat and olive oil products. Koonac Goat Farm sells its cheese and wares, and Mike from The Berry Farm sells his avocados (at a great price!). If you're in the area, these markets are a must-do.
Open every Saturday, 8am-12pm. From December through to end of March, open every Saturday, 7:30am-11:30am.
http://www.margaretriverfarmersmarket.com.au/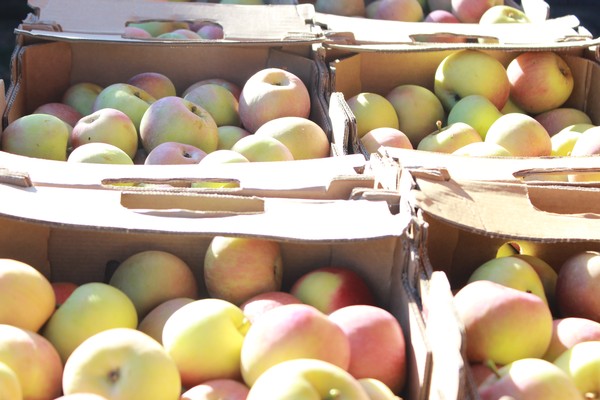 Comments