Our Village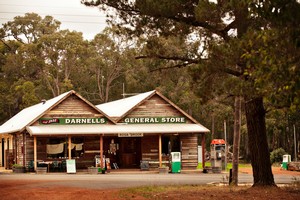 Part of the magic that makes Brown Hill Estate so special can be attributed to its home town. Rosa Brook is a small, charming village that lies 280km south of Perth and is just a short ten minute drive from Margaret River. Its major landmarks are one little general store and a community hall, but the soul of the land and the locals is beyond measure, making a visit to this town and its surrounding area a real treat for the wine and food-loving traveller.

Traditionally a dairy and lamb farming area, Rosa Brook has recently been brought to life by an energetic viticultural industry. Meander through the town and its surrounds to discover some cellar doors with interesting wines and picturesque vineyards. Rosa Brook locals are foodies as well – sample the amazing food produce just ripe for the picking, from olive oil, goats cheese, organic lamb and beef to berry jam and fresh fruit, all available at the local Margaret River farmers' markets every week. Or why not go horse-riding through the gorgeous green landscape, uncover local art or get back to nature with a picnic in the national parklands.
A few character-filled chalets and bed and breakfasts are scattered through the lush rolling hills of Rosa Brook making for a relaxing getaway. The laid-back lifestyle of this small village makes it impossible not to de-stress and live like one of the tight-knit locals for which this area is well known.

The down-to-earth, friendly spirit of the town is reflected in Brown Hill Estate's wines, made with traditional boutique winemaking methods and loads of attention to detail. After a day's touring through the village and its surrounds or the wider Margaret River region, take a seat at our table, the large jarrah slab resting on oak barrels and savour the wines in our tasting room.